Rangers: Charles Green wants Ally McCoist to stay as manager
Last updated on .From the section Football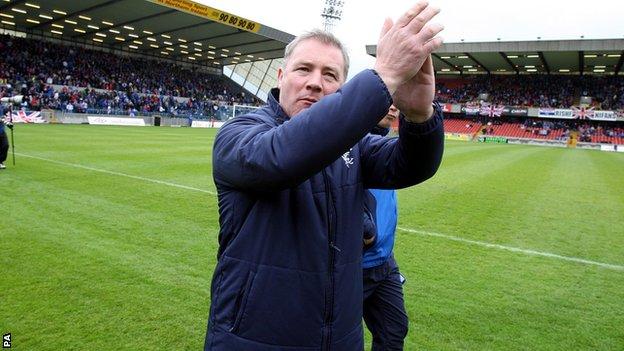 Rangers chief executive Charles Green insists he wants to keep Ally McCoist as the club's manager.
Reports had emerged suggesting McCoist would leave his position at the club.
But Green, whose consortium completed the purchase of the Glasgow club on Thursday, has insisted he wants to keep McCoist at Ibrox.
"The issues that I read in newspapers today about Ally, it's all rubbish. Our consortium wants Ally McCoist to remain as manager," he said.
It also emerged on Friday that former manager Walter Smith is leading a consortium hoping to buy the club from Green's group and the chief executive recognised that McCoist would feel loyalty to the man to whom he was assistant.
"The reality is Walter and Ally are big pals," said Green. "I'm nothing to Ally, don't expect to be.
"If there is a chance that Walter is going to put a bid together, Ally would support Walter and that's what I would expect."
However, Green admitted he had only spoken to McCoist six times and that they had only spoken for seconds when passing in the corridor in the morning despite a newspaper story claiming that the manager was poised to quit.
"We firmly believe he is the man to take Rangers forward," a statement from Green read earlier.
"He embodies everything that is great about the club and, without question, we want him to continue as the Rangers manager."
However, the statement went on to suggest that people opposed to his takeover of the club had approached McCoist.
"I fully understand that other people have courted Ally who do not wish to see my consortium succeed," it said.
"However, I believe the time for decision and rancour is over now that the cub has been sold and everyone with the interests of Rangers at heart should unite."
Green's statement came as he announced that his consortium had completed the acquisition of the club and the club quickly announced that the former Sheffield United chief executive has taken the same role at Ibrox.
A spokesman for Rangers' administrator had earlier insisted that McCoist remains manager of the club.
And a source close to the former striker has poured cold water on talk of McCoist's departure, telling BBC Scotland that the report claiming he is on the verge of leaving the club is ''paper talk".
McCoist succeeded Walter Smith at Ibrox in the summer of 2011 and the 49-year-old's tenure as the club's 13th manager has coincided with the most turbulent spell in the club's history.
Prior to Green's statement, Rangers Supporters Association general secretary John Macmillan told BBC Scotland that fans should not buy tickets while McCoist's future was uncertain.
"I think, for what he's been through, he's held his dignity very well and for Ally McCoist to even contemplate doing that then something must be seriously wrong," he said.
"The very fact that he's not making any comment and Rangers aren't making any comment tells me there's truth in it.
"In my view there's been a distinct lack of transparency with Charles Green.
"It's hanging on a cliff edge. I think fans would be ill-advised to renew season tickets at this time."
HMRC rejected the Green consortium's bid to exit administration via a company voluntary arrangement giving creditors nine pence in the pound.
Rangers will re-form as a new company after a creditors' deal was rejected by Revenue and Customs.