Anthony Laffor among three players expelled by Liberia
By Zoegar Jaynes
BBC Sport, Monrovia
Last updated on .From the section Football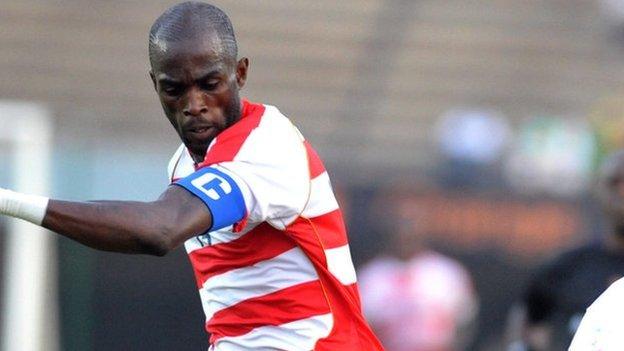 Liberia has expelled three players, including captain Anthony Laffor, from the squad to face Namibia in a 2013 Africa Cup of Nations qualifier.
Laffor, Francis Doe and Dioh Williams will miss Saturday's game because of "constant uncontrollable behaviours".
The Liberia Football Association said the trio's violations included "late arrival for practice sessions and constant boycott of camp".
Liberia take a 1-0 lead into Saturday's second-leg tie away to Namibia.
It was striker Williams who scored in the first leg to give them their slender advantage, but Liberia coach Kaetu Smith must now look for an alternative supply of goals.
Smith had recommended that the three players be dropped from the starting line-up and, according to the LFA Communications Director, he had said the trio along with three other players had been fined US$1,000.
The punishment was for showing up at the camp late following the team's return from Senegal on Sunday, 3 June - captain Laffor returned to camp on Tuesday three days after schedule.
But the Liberian FA did not feel the punishment was severe enough.
The LFA added in a statement: "The players' constant misconduct came to an uncompromising state when it contributed to the team missing its Delta flight to Ghana en route to Namibia on Monday, 11 June.
"As a result, the LFA has lost close to US$20,000 in extra charges for the team's overnight stay in Accra, Ghana."
The situation will add to the pressure on Liberia, who could only manage a disappointing 0-0 draw with Angola in a 2014 World Cup qualifier on Sunday and are bottom of Group J after two games played.
Coach Smith will be looking for a much-needed improved performance from Lone Star when attention turns back to qualification of the Nations Cup at the weekend.
He has named veteran defender George Gebro as captain to replace Laffor.