Saturday's 2013 Nations Cup qualifiers in focus
Last updated on .From the section Football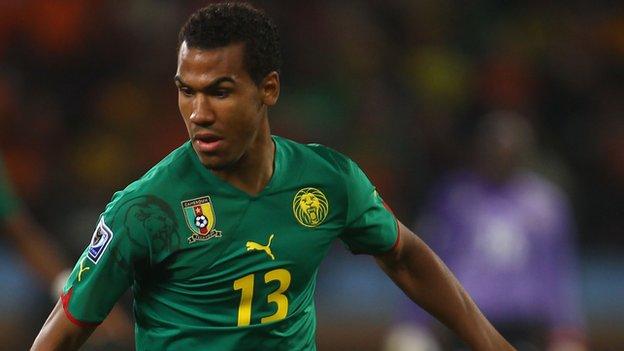 Seven teams will book their place in the third and final qualifying round of 2013 Africa Cup of Nations on Saturday.
Minnows Sao Tome e Principe are looking to create one of the biggest upset in Nations Cup qualifying history as they take on Sierra Leone.
Leading 2-1 from the first leg in February, the islanders are unbeaten in their last four competitive matches.
Sao Tome - who have never qualified for a Nations Cup - played their first match in eight years last November.
"Playing at home, we have to defend properly and make sure that we don't concede as these (away) goals can kill you," Sierra Leone captain Ibrahim Kargbo told BBC Sport.
Kargbo conceded that preparations for Sao Tome have been hindered by last week's World Cup qualifier in Equatorial Guinea, a journey which involved flying via Liberia, The Gambia, Ghana and Togo.
"It's not going to be easy as some of the players are very tired. I think this can affect us, but what can we do?" he explained.
"We have to reserve the little strength we have for Saturday as it's a very important game - and we have to win."
"I have been playing for the national team for twelve years - and this is the most important."
Elsewhere, two former African champions will aim to banish memories of their failure to qualify for the 2012 Nations Cup.
Four-time Nations Cup winners Cameroon appear to have the easier task, hosting Guinea-Bissau while holding a 1-0 lead from the first leg.
Indomitable Lions forward Eric Choupo-Moting says his colleagues are still licking their wounds following their 2014 World Cup qualifying defeat by Libya last weekend.
"We learned against Libya that we should never underestimate a team, and we are very disappointed about that game still," he told BBC Sport.
"We are under pressure. Of course, the country is very disappointed but we have to accept it - we just want to concentrate now on the game against Guinea-Bissau."
Meanwhile, two-time champions Nigeria entertain Rwanda, with the game still goalless after the first leg in Kigali.
One of the more intriguing ties will come in Malawi, where the Flames must overcome a 3-2 deficit against Chad.
Malawi coach Kinnah Phiri is under pressure following a succession of draws but revenge will also be on his mind.
The Flames' hopes of reaching the 2012 Nations Cup ended in the very last minute of qualifying when Chad forced a 2-2 draw last October.
In other games, Uganda must be on form to overturn a 3-1 deficit as they host Congo Brazzaville while Namibia also need to use home soil to their advantage.
The Brave Warriors play Liberia in Windhoek, with the Lone Star leading 1-0 from the first leg.
The day's easiest match should theoretically come in Cape Verde, where the host nation hold a 4-0 lead against visitors Madagascar.
Either Algeria or The Gambia will book their place on Friday for the third and final qualifying round, with another five joining them on Sunday.