Mustapha Carayol contract dilemma 'understandable' - Mark McGhee
Last updated on .From the section Football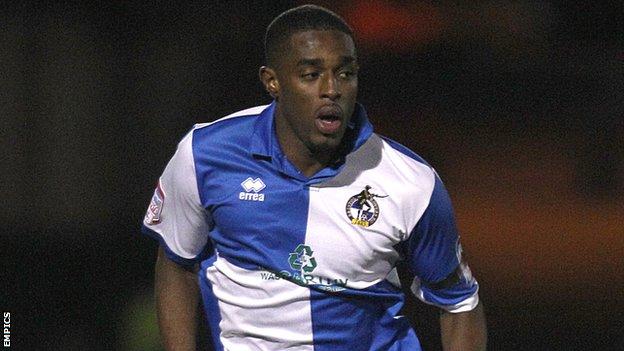 Bristol Rovers boss Mark McGhee says he understands Mustapha Carayol's decision to delay signing a new contract.
Carayol, 22, has yet to secure his future beyond next season despite ongoing talks with the Pirates
And the Gambia-born winger was the subject of a six-figure bid from a Championship club in May
"When a boy is presented with an opportunity that improves his prospects financially, you can understand him considering it," said McGhee.
"Aside from that, there's an opportunity to play two leagues above us.
"If it's a choice between playing in League Two and the Championship, I know what I would do.
"But we believe we had a good future here with the way the board are thinking and a new stadium.
"Maybe there's some story we can tell Muzzy to convince him to stay here in the long term," the Scot told BBC Radio Bristol.
Rovers signed Carayol from Lincoln for an undisclosed fee 12 months ago and he has gone on to make 35 appearances for the club, scoring six goals.
An offer from Barnsley was rejected in January, as well as a bid from the unnamed Championship outfit who approached the Pirates at the end of the season.
Although McGhee wants to keep Carayol, he admits he would consider a sale if their valuation was met.
"I have a clear picture in my mind of his value," he added.
"We'd love to keep Muzzy here but we've got to be fair to him as well. We respect his views in all of this but my first priority is Bristol Rovers."
"I have to do the job of making sure anybody that leaves here we get the full value for them."