Reading in line for Premier League TV windfall
Last updated on .From the section Football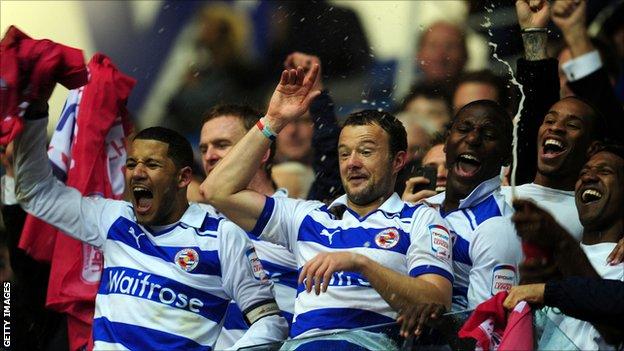 Premier League new boys Reading could be in line for a £10m windfall says football finance expert Professor Chris Brady - but only if they stay up.
Reading along with Southampton and West Ham will earn around £20m from television revenue next term following promotion to the Premier League.
But following the announcement of the new Premier League TV deal, that figure will rise to £30m from 2013/14.
"From the TV money alone they will get around £30m a season," said Brady.
The increase in revenue is a huge financial incentive not only for the three promoted sides, but sides in the Championship next season hoping to go up, as well as teams currently in the Premier League.
BSkyB will continue to show the bulk of games, securing the rights to 116 games per season, the Premier League said.
The total of 154 live matches is 16 more than currently broadcast and more than 40% of all top-level matches.
The sales raised £3.018bn, an increase of £1.25bn on the current package which shares rights between BSkyB and ESPN.
And Brady says the emergence of BT into the bidding process as well as Al Jazeera helped push up the price.
"Next season they [Premier League sides] will get around about £20m, that will go up by £10m the season after, providing they are still there," added Brady.
"The reason for the increase is the amount of bidders, this year you had Al Jazeera and BT - who eventually came out with a couple of the packages - as well as ESPN and Sky.
"In an auction process the more bidders you have the higher you can drive up the price.
"Richard Scudamore (Premier League chief executive) also made a good point that the excitement on the last day didn't do any harm either."