No Spurs approach for Roberto Martinez, says Dave Whelan
Last updated on .From the section Football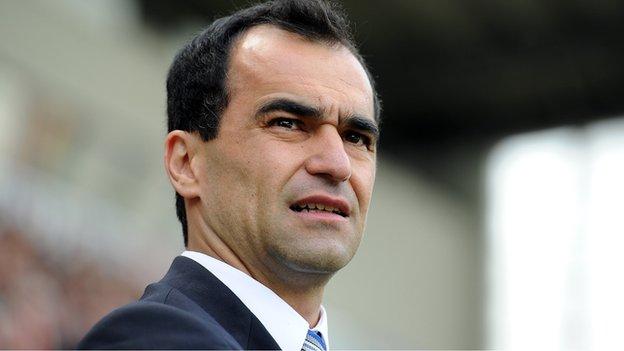 Wigan chairman Dave Whelan says he has had no approach from Tottenham for Roberto Martinez, but would not prevent him from speaking to the club over the vacant manager's position.
The Spaniard is understood to be in contention following Harry Redknapp's dismissal, along with Everton boss David Moyes and Rafael Benitez.
"If Tottenham come to me and ask to speak to him, I have to say the answer is yes. It always is," said Whelan.
"You cannot stop managers moving."
Martinez's stock is high after guiding Wigan to Premier League safety following a remarkable run of results towards the end of last season, and he was linked with Liverpool before Brendan Rodgers' appointment.
Consequently, Whelan has accepted that Martinez will be in demand, but feels the former Swansea boss is happy at Wigan.
"Roberto is away in Europe at present watching the European Championship, I have not spoken to him about this," he added.
"As far as I am concerned there is nothing on the cards at present.
"Spurs are a big club, there is no doubt about that. Every club that people regard as big club, when these jobs come up people say 'oh Roberto must be in for that'. And Roberto is actually quite happy at Wigan.
"I have not heard one thing from Tottenham Hotspur or from Roberto so as far as I am concerned there is nothing going on at present.
"I just wait and see. Roberto is very happy, he is doing a brilliant job for me."
Spurs, like Liverpool and Aston Villa before them, are keen to appoint a modern, dynamic manager who can take the club forward.
Aside from Martinez, Moyes - who remains the bookmakers' favourite for the position - and Benitez, Andre Villas-Boas has also been linked, although sources close to the former Chelsea manager have distanced him from the post.
Spurs are determined not to rush into appointing Redknapp's successor, with a number of candidates likely to be interviewed.