Rangers: Malcolm Murray is named new Ibrox chairman
Last updated on .From the section Football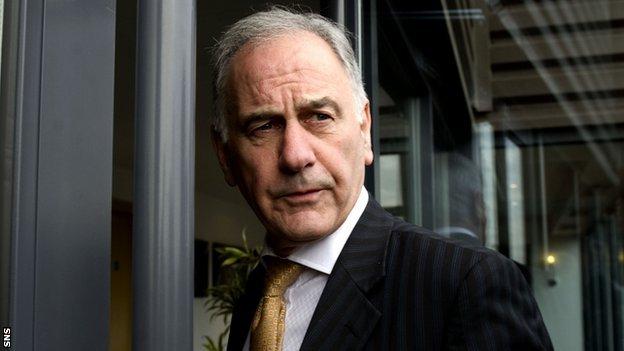 Rangers' new owner has named Malcolm Murray as chairman and offered Walter Smith a prominent role after rejecting his group's bid to buy the club.
A group led by the former manager made its approach immediately after creditors rejected a company voluntary arrangement to prevent liquidation.
Charles Green's consortium has now formed a new company after buying the club's assets for £5.5m.
And new chief executive Green says Smith could be its football chairman.
"It is time for everyone to pull together," said the Englishman who previously filled the same role at Sheffield United.
"If Walter Smith wants to be chairman of the football club board, I'll appoint him at nine o'clock tomorrow morning."
The Smith-led consortium, backed by Scottish millionaires Jim McColl and Douglas Park, has already had its offer, which included a nominal profit for the group now in charge at Ibrox, rejected by Green and his colleagues.
"But the reality is there is no benefit to Rangers now to having these groups," said Green, who also revealed financier Imran Ahmad as a non-executive director.
"If Walter, Jim McColl, Douglas Park, Uncle Tom Cobley want to be an investor in this club, this man will take cheques off them and put it in Rangers' bank account.
"They can come on the board and be party to what we're doing.
"What we're not going to do is sit around and wait because, if we hadn't come along, this club would have closed.
"The administrator couldn't run it forever and no-one put money on the table like we did."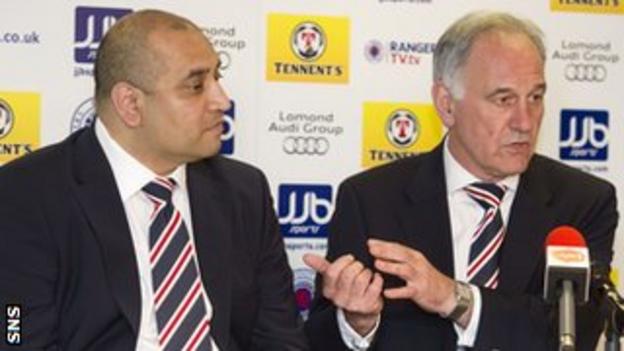 Ahmad said they had spent £10m with operating costs and advisory fees included and would not leave Ibrox for a nominal return.
"These are professional investors and I would expect they would want to see a substantial return," he said. "So it would have to be a multiple of what we paid.
"We bought the club on 11 May, we paid our money and we are now going to run the club and move on.
"If Walter Smith really cares about this club and cares about the fans then the door is open to him to lead the football club board.
"If these guys really care about the club, why would they use a tactic to try to put off fans from coming to what's a great institution?
"My view is that they should be embracing us and encouraging the fans."
New chairman Murray had stewardship of a 25% shareholding in Manchester United in the early 1990s but stressed his Rangers credentials.
"It is a great honour to be invited to become non-executive chairman of an iconic football club," said the Ayrshire-born 57-year-old who is director of Mwb Business Exchange plc, a company involved in the management of real estate.
"I am intensely proud to have been a supporter since my father took me to Ibrox for my first match and Colin Stein scored a hat-trick on both our debuts.
"I was hooked from that moment on and, as a supporter and season ticket holder, I have been - like all Rangers fans - utterly appalled by what has happened to the club.
"Those responsible for bringing the club to its knees should start by apologising to supporters who have been left to face the consequences.
"It is my firm intention to ensure high standards of transparency and probity are adopted and the club will be managed with a prudent long-term strategy avoiding the fiefdoms and excesses of the past.
"With that approach, I am sure that Rangers can look forward to better days."