Rangers: Ian Hart denies being part of Charles Green's consortium
Last updated on .From the section Football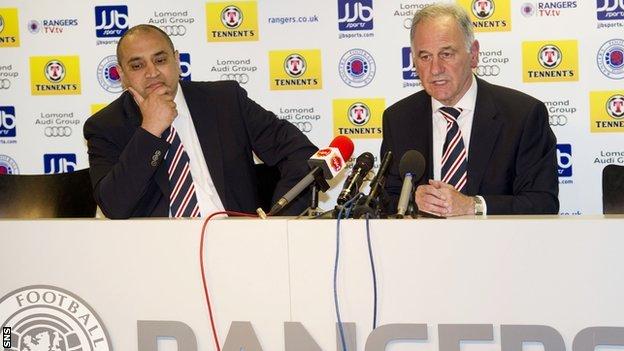 Businessman Ian Hart has denied being part of Charles Green's consortium - only hours after being named one of the backers of Rangers' new owners.
Hart insists he supports Douglas Park, who is part of a group led by former manager Walter Smith looking to wrest control from Green's investors.
Green's group completed its purchase after liquidation became inevitable.
But Jim McColl and Rangers Supporters' Trust have both urged it to sell to the grouping the businessman backs.
Before completing the deal worth £5.5m, Green's Sevco consortium had attempted to come out of administration through a company voluntary arrangement.
And Hart had agreed that the money he invested in the youth development department some years ago be put towards the funds underpinning Green's CVA proposal, which was rejected by creditors led by Her Majesty's Revenue and Customs on Thursday.
However, he has not put new money into Green's consortium and was one of the Blue Knights, the failed consortium led by former Rangers director Paul Murray and Sale Sharks rugby club owner Brian Kennedy.
"A number of years ago, I invested in the youth development department and that money was lying in the youth development department," said Glasgow-based Hart.
"At the time when Charles Green was the preferred bidder and was going for the CVA, I allowed that money to be used in order to get a CVA, but I am not part of his consortium.
"That was on the basis that he was going for a CVA, for the simple reason of trying to help to save the club.
"But I am not part of his consortium and I've been behind Douglas Park in the previous bid with the Blue Knights.
"I spoke with Douglas yesterday and today and I was very happy to be involved in putting more investment into the bid by Douglas.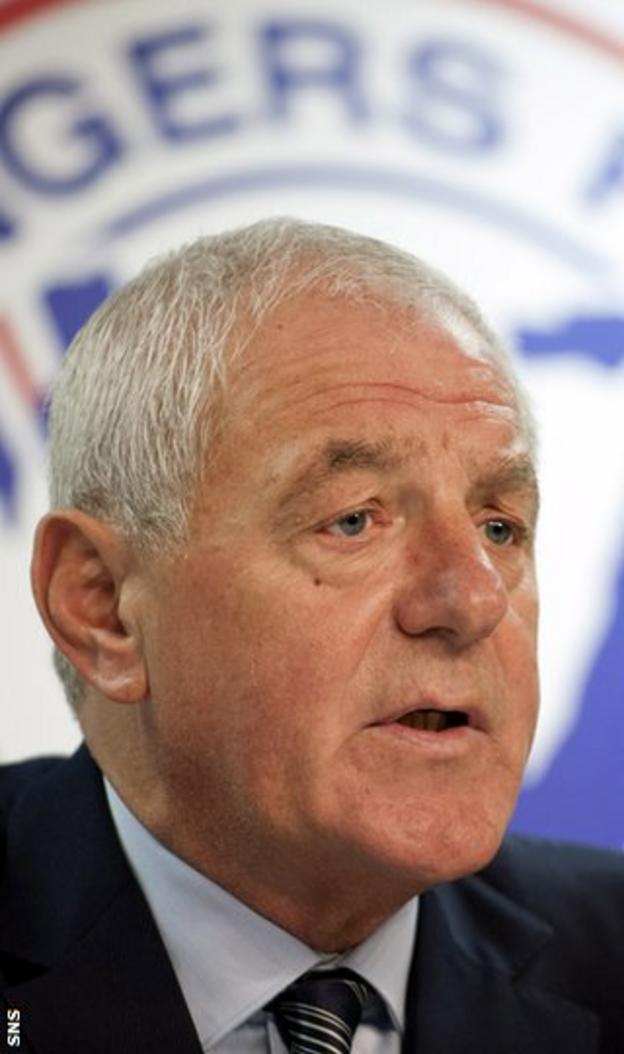 "I am not part of Green's consortium. I remain in full support of Douglas Park."
Millionaire Park, who made his money through car showrooms and the Park's of Hamilton coach company, was named by Smith as part of his group shortly after the creditors' meeting and before Green announced the completion of his group's purchase.
Life-long Rangers fan Hart also intends to financially support Smith's group, while the former manager also has support of McColl, one of the richest men in Scotland who made his fortune through engineering.
McColl urged Green to consider the offer, thought to be about £6m, from Smith's group.
"I would like to issue a public appeal to Charles Green to strongly consider selling the club to the Walter Smith consortium," he said in a statement.
"This would be in the best interests of Rangers FC, the Rangers fans and all of Scottish football.
"Mr Green does not have the backing of the Rangers support and the longer he delays, the harder the situation will become."
The Rangers Supporters Trust also welcomed the fresh bid headed by Smith.
"We firmly support the view that Rangers men should be in charge at this critical time in our history and that no profit should be gained by any individuals owning the club," it said in a statement.
"This bid is the only one which will ensure all the Rangers family are united and, if it comes to fruition, we can pick ourselves up and take the first tentative steps on the long road to recovery and our 55th Scottish League championship.
"The Rangers Supporters' Trust board calls on all supporters' to hold off renewing season tickets till this situation is resolved."
Former Sheffield United chief executive Green has now been named in the same role at Ibrox, with real estate company director Malcolm Murray as chairman, Imran Ahmad as a non-executive director and and Brian Stockbridge as chief financial officer.
Both Ahmad and Stockbridge work for stockbrokers Zues Capital along with Alessandro Celano, also of Blue Pitch Holdings, who was named among Green's other backers along with Scottish clothing company Glenmuir and Chris Morgan, a UK-based businessman representing family trusts.
The Rangers Supporters Assembly also appeared to question the Green consortium's ability to fund the club sufficiently.
"The club clearly needs serious investment and, if the new board are unable to provide this, should consider any possible bids and assurances that can provide this," it stated.