Euro 2012: Martin Keown on England v Sweden

By Martin Keown
BBC Football Analyst
Last updated on .From the section Euro 2012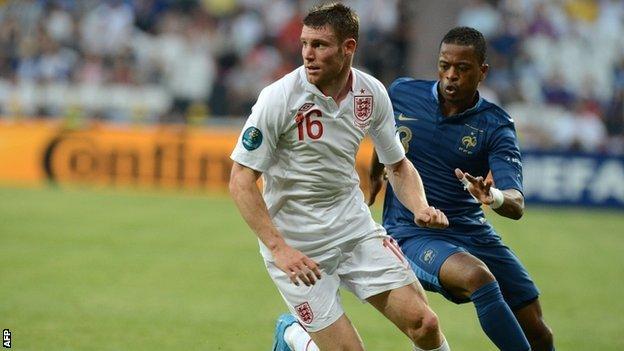 I would like to see more of a threat going forward from England in their group game against Sweden than we saw in the 1-1 draw against France on Monday.
It is early days for England, both in this tournament and under the new manager Roy Hodgson, who has had only three games in charge.
There are positive signs in defence. England are nice and compact in midfield because the wide players are tucking in and there is hardly any space between our midfield and defence for the opposition to exploit.
It is the sort of protection that our central defenders need against Sweden's main threat - striker Zlatan Ibrahimovic.
But going forward England need to do more.
I don't think that Hodgson needs to change the personnel, as the attacking threat is something that I believe will come as the team grow in confidence in their roles.
There wasn't anything in the French team that frightened us and I suspect that Sweden will be weaker. I don't think their defence is fantastic and their full-backs Martin Olsson and Mikael Lustig look vulnerable.
That might lead some to question whether Theo Walcott would be a good introduction in place of James Milner on the right of midfield. But Hodgson will not forsake Milner for the work rate that he brings to the team.
I believe that Hodgson will ask Manchester City midfielder Milner and Arsenal winger Alex Oxlade-Chamberlain to be a little more expressive, perhaps telling them they do not need to trawl back as much.
The wide pair covered an incredible amount of distance against France but they need to help Danny Welbeck in working Sweden's centre-back Olof Mellberg.
The TV stations in Poland and Ukraine have been showing Andriy Shevchenko's two goals against Sweden every five minutes, and I'm sure England striker Danny Welbeck has been watching and thinking he can match the movement of the veteran striker.
In order for Welbeck to get into similar positions, Milner and Oxlade-Chamberlain need to provide service for him and that means the wide midfielders receiving the ball higher up the pitch.
They do not have to cover full-backs Ashley Cole and Glen Johnson as often as they did against France, and that means they will have more energy left to try to threaten going forward.
It's a lung-bursting exercise for those players to track back and then have anything left in the tank when they break from deep.
England looked solid against France and almost had two sets of back fours such was the way that they covered ground and tucked in, therefore stopping passes into opposition striker Karim Benzema.
Ibrahimovic will try to work between England's defence and midfield and, based on his performance against Ukraine in Sweden's opening game, he is head and shoulders above anything else they had in their team.
We have to make sure we snuff him out with Joleon Lescott or John Terry fronting up to him, or Steven Gerrard and Scott Parker dropping back. But I expect them to be able to cope with Sweden's key threat.
England are only going to gain more character and personality as a team the more they play together, so I'm hoping that will come through against Sweden.
From what I've seen so far in Group D, there is no reason why England cannot win.