Euro 2012: Kevin Kilbane urges Republic stars to play on

By Kevin Kilbane, BBC Radio 5 live in Gdansk
110 caps for Republic of Ireland since 1997
Last updated on .From the section Euro 2012
I normally love watching Spain play but it was painful seeing them destroy the Republic of Ireland in Gdansk on Thursday.
I played for Ireland more than 100 times but I was never on the wrong end of a game as one-sided as that.
The closest I've come to it has come at club level when I've come up against teams like Arsenal and Manchester United.
When you are playing teams like that and not seeing a lot of the ball you retreat and sit off and try to nullify any spaces. Your mentality is to defend at all costs, with the hope you might snatch a goal from a set-piece or a breakaway.
Occasionally, it works but 99 times out of 100 you get beaten and, once Spain had gone ahead only four minutes in, I felt for the Irish players. They were up against the world champions, who were in relentless mood.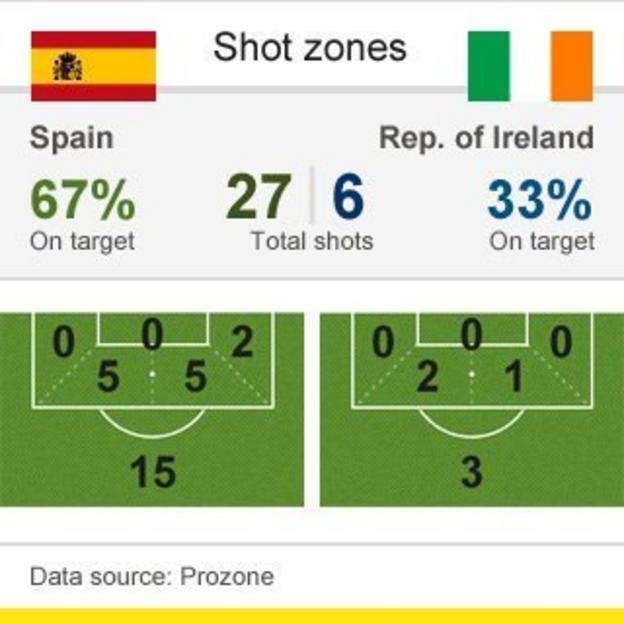 Some of the travelling Ireland fans asked me afterwards why we didn't close Spain down or make some tackles but the truth is it was so difficult to get close to the Spanish players because of the unconventional positions they take up on the pitch and their wonderful movement.
Defeat means Ireland are out of Euro 2012, and losing like that after being beaten by Croatia in the first group game has taken some of the gloss off being in a first major tournament finals for 10 years.
Even so, the fans seem determined to enjoy themselves.
Poznan was absolutely jumping before we played Croatia there last week and, judging from what I have just experienced in Gdansk, I don't think it will be any different when we are back there on Monday to play Italy.
You might think our two defeats would dampen the spirits but everybody still seems in party mode and they are here to enjoy the tournament as a whole.
They will be right up for it against the Italians, and there will also definitely be an incentive for the squad to get something from that game and salvage something from their time in Poland.
But more importantly now, looking forward, I hope the experience gives the players an appetite to push on and qualify for the 2014 World Cup too.
I really hope the team stays together to try to make Brazil.
I have already heard reports that Shay Given is considering international retirement but I don't think he should.
He is the Republic's number one, still playing in the Premier League with Aston Villa and still has a heck of a lot to offer to the squad as a whole.
At 36, he is not a young man but he has a great attitude and still has another three or four years left in him. I will probably be speaking to him in the next few days and I will say the same to him then.
Those sort of questions are always asked players at times like this when you come to the end of a tournament or qualifying campaign, especially these days when the trend is to retire from international football to prolong your club career.
I think I was about 27 when I was first asked by a journalist whether I would be finishing playing for Ireland and, because they are all over 30, I am sure people like Robbie Keane, Damien Duff and Richard Dunne will be asked now too.
But I wanted to play at the top level for as long as I could and I hope those guys feel the same way too.
They have been some of Ireland's truly great players in recent times and I just hope they look at the Brazil World Cup as something to aim for as a final fling. Qualifying and playing in that would be a much better way to bow out, if that was what they wanted to do.