Euro 2012: Thiago Motta dismisses Italy's collusion fears
Last updated on .From the section Euro 2012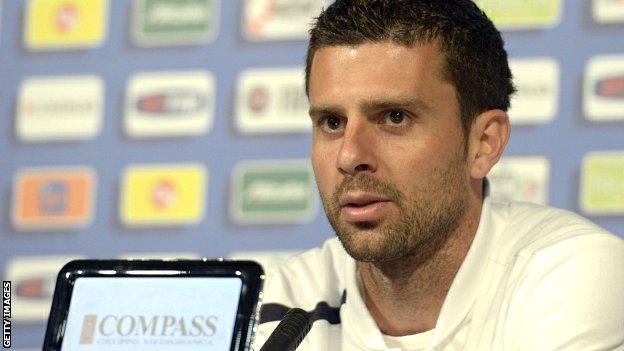 Italy's Thiago Motta has dismissed claims Spain and Croatia could contrive to draw 2-2 in their final Group C game and knock out his team.
That scoreline would eliminate the Italians, regardless of the Azzurri's result against the Republic of Ireland.
The same scenario knocked Italy out eight years ago, when Denmark and Sweden drew 2-2 to progress.
"They are professionals. It won't happen, everyone will do their own jobs," said Motta.
Striker Mario Balotelli will be dropped for Italy's match against Ireland, with Antonio Di Natale set to come in.
Balotelli has yet to score in the tournament and coach Cesare Prandelli insisted that his demotion was "a change I have to make" for a match that may be the last of Italy's campaign.
Despite the events of Euro 2004, with both Scandinavian sides denying there was any complicity, the Italian press were suspicious and have questioned whether history could repeat itself.
But goalkeeper Gianluigi Buffon, who played in the 2004 team and was part of the Juventus side demoted from Serie A in 2006 for their involvement in a match-fixing scandal, said he did not fear Spain and Croatia co-operating to eliminate Italy.
"That was two teams of a medium level who had the chance to both qualify," he said of Denmark and Sweden in 2004.
"Here we're talking about a very good team and the best team in the world. It's not the same, they're great champions."
A draw between Croatia and Spain, combined with an Italian victory over the Republic of Ireland, would leave all three level on five points at the top of Group C.
Head-to-head records, rather than total goal difference, are used to separate teams on the same number of points at the end of the group stage, meaning even a landslide over the Republic of Ireland would not help Italy's cause.
Instead the fact that Spain and Croatia had scored more goals in the games involving the three would prove decisive.