Rangers: Ally McCoist talks productive, says Charles Green

By Alasdair Lamont
BBC Scotland
Last updated on .From the section Football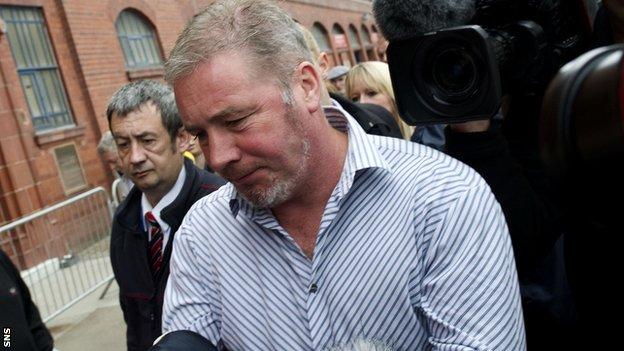 A source close to Rangers manager Ally McCoist says talks on his future with the club's chief executive Charles Green went well.
And Green told BBC Scotland the meeting was "very productive".
On completing his purchase of Rangers' assets on Thursday, Green said: "my group 100% wants him as manager".
But, with Walter Smith fronting a consortium hoping to buy the club, doubts surfaced about McCoist's loyalty to the new regime.
Earlier, new Rangers chairman Malcolm Murray insisted that every effort will be made to keep McCoist.
And he repeated Green's plea for Smith and his backers to combine resources.
"We want Ally to commit, then move forward. It's our stated policy that he's an integral part of the club and he's been told that," Murray told BBC Scotland.
"I believe he will be the manager of Rangers next season and we have to make the effort to make that happen. It's what every fan wants.
"We need to get Ally on board as soon as possible to talk to the players, who are away on holiday just now."
Having served as his assistant for three-and-a-half years, McCoist succeeded Smith in the summer of 2011.
The pair previously worked together coaching Scotland and McCoist was a Rangers player during the first of Smith's spells in the Ibrox dugout.
Green paid £5.5m for the 140-year-old club's assets after attempts to avoid liquidation formally failed in a creditors' vote.
McCoist attended the creditors' meeting at Ibrox but refused to comment on his own future.
"It was a sombre and humbling occasion for all of us," said Murray, who has been charged with chairing the new entity that emerges.
"It will take rebuilding and a bit of getting over, which is what it's all about from now on.
"What we want is unity between all connected parties, the fans in particular.
"The most important thing is that we have constructive dialogue between everyone who has Rangers' long-term interests at heart.
"We are desperate to have that dialogue with Walter Smith and his associates and I believe that process is already in place.
"It's much better that everyone who cares about Rangers stands facing in the same direction.
"We don't want separate fiefdoms and factions."
Smith, winner of 21 trophies as Rangers manager, launched a last-minute bid to wrest control from Green with a group of businessmen, including Douglas Park and Jim McColl.
McColl claims Green does not have the backing of the Rangers support and is urging the new owner to step aside.
But Murray ruled out a quick sale, telling BBC Scotland: "There is not an intention to flip the club.
"I wouldn't be involved if there was because I'm here to help mend the broken pieces.
"Remember, Zeus Capital, who are the primary advisors behind this, were Manchester United's advisor when they floated and they went on to become properly invested in and a global brand.
"These are long-term people, rock solid investors.
"They see Rangers as a huge brand that is unfortunately on its knees at the moment.
"The fans deserve a serious apology and an assurance that this is going to be built for the long-term."