Pompey Supporters Trust Lawyer issues liquidation warning to players
Last updated on .From the section Football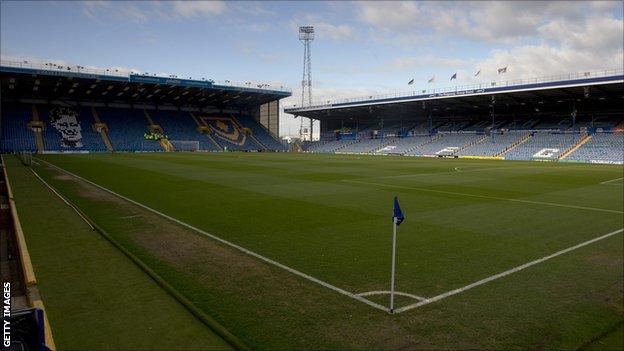 Lawyer Anthony Fanshawe says football creditors need to "get real", or Portsmouth face being liquidated.
The Professional Football Association are potentially claiming nearly £24m from Pompey, but Fanshawe says they need to compromise on the figure.
It is the major stumbling block preventing the Portsmouth Supporters' Trust from making a rival bid.
"They (football creditors) are the guys who are preventing the deal from going through," Fanshawe told BBC Sport.
Under insolvency rules, football creditors such as players and agents are entitled to the whole amount of money they are owed both in wages and in payments to compensate them for having their contracts cancelled early.
And it is this rule, says Fanshawe, who is representing the PST, which will see Pompey go out of existence unless the players agree to walk away with less money.
"The football creditors have to accept they are not going get what it is they are claiming now in full," he said.
"Trevor Birch (administrator) knows the number but that figure of £24 million has to be reduced by two thirds or more before there is going to be an acceptable deal on the table.
"Unless you pay these particular creditors, who are in general players and agents, the Football League does not allow you to retain your position in the league."
Fanshawe met with Birch over the past week and described the discussions as "constructive", but admitted the issue of player contracts and the football creditors was a "major road block of considerable significance".
He added that to date no official bid had been made by the PST but hoped they could still rival Balram Chainrai's Company Voluntary Agreement offer to creditors.
Creditors are due to vote on that offer, currently standing at 2p in the pound on 25 June.
Fanshawe continued: "I am realistic about the position we are in at the PST and we are cautiously optimistic of presenting a rival bid, subject to one or two things falling into place, such as dealing with the football creditors appropriately.
"The football creditors have to accept they are not going get what it is they are claiming now in full.
"This is the big issue now, it has to be dealt with. The football creditors have to get real and if they don't get real there will be no deal and there will be nothing for anyone."
Fanshawe ruled out the possibility of a joint bid with Chainrai and said liquidation was still a possibility.
"If the club goes into liquidation and the assets are sold the club will lose it's league status and the football creditors will get nothing, so it's a very serious issue that has to be resolved," he added.