Liverpool owner John Henry hints at Anfield redevelopment
Last updated on .From the section Football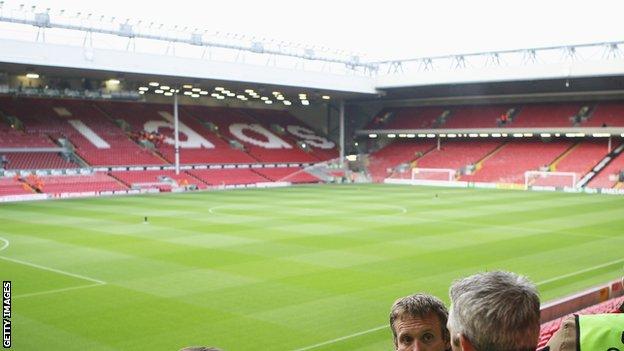 Liverpool owner John Henry has hinted the club could be set to redevelop Anfield, saying it is a "myth" that a new stadium will improve the Reds' financial fortunes.
The feasibility of building a new ground on Stanley Park has long been mooted by Fenway Sports Group (FSG).
But Henry says a new stadium is not vital for Liverpool's long-term future.
"A long-term myth has existed about the financial impact of a new stadium," he said in an email to theanfieldwrap.com.
"A belief has grown that Liverpool FC must have a new stadium to compete with [Manchester] United, Arsenal and others.
"No-one has ever addressed whether or not a new stadium is rational."
FSG is believed to have long favoured the remodelling of Anfield and was faced with a similar situation with one of their other clubs, the Boston Red Sox.
After conducting a feasibility study for around a year, FSG opted to redevelop the 100-year-old Fenway Park and Henry hinted last year he was keen to do something similar with Anfield, stating that it would be hard to replicate the atmosphere generated at the stadium.
The American also believes moving to Stanley Park would likely result in higher ticket prices and feels the best method for the club to compete financially with the Premier League's leading sides would be to increase their worldwide commercial revenue streams instead.
"New stadiums increase revenues primarily by raising ticket prices - especially premium seating," added Henry.
"While a new stadium or an expansion of Anfield is beneficial over the long term for the club, the financial impact of adding seats and amenities should be put into perspective.
"That's why I say that it is a myth that stadium issues are going to magically transform LFC's fortunes.
"Building new or refurbishing Anfield is going to lead to an increase from £40m of match-day revenue to perhaps £60-70m if you don't factor in debt service.
"That would certainly help but it's just one component of LFC's long-term fortunes.
"Our future is based not on a stadium issue but on building a strong football club that can compete with anyone in Europe. This will be principally driven financially by our commercial strengths globally."