Euro 2012: Republic of Ireland boss Giovanni Trapattoni defends his position
Last updated on .From the section Euro 2012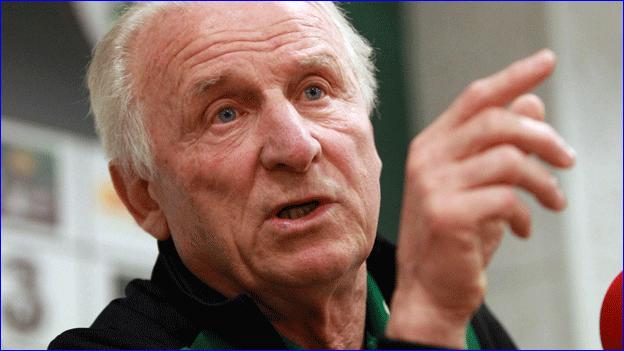 Giovanni Trapattoni has insisted that he deserves to remain as Republic of Ireland manager despite his side's disappointing displays at Euro 2012.
The Italian offered a defiant defence of his reign after a 4-0 drubbing by champions Spain confirmed the Irish side's early exit from the competition.
"I think we deserve to stay. We have a reason because we have achieved qualification after 24 years of trying.
"I have the enthusiasm. The Irish people can decide," said Trapattoni.
Amid criticism of his selection policy and the performances against both Croatia and the Spaniards, Trapattoni, who was awarded a new two-year deal in the wake of the Republic's qualification for the tournament, was adamant he and his coaching team would remain in charge for the World Cup qualifiers..
"That is our right to stay. I have more enthusiasm to stay than you and your colleagues.
"The people yesterday at 3-0 were still applauding, and we must be proud.
Trapattoni and his players will attempt to end their involvement in Poland and Ukraine with victory over Italy in Poznan on Monday night, and he will then turn his attention to the task of taking the nation to the 2014 World Cup finals in Brazil.
He will do so amid speculation that some of his senior players may decide to retire from the international stage.
Keeper Shay Given, central defender Richard Dunne, midfielder Damien Duff and skipper Robbie Keane are all over thirty, but Trapattoni revealed he has had no indication yet that any of them intend to call it a day.
He said: "At this moment, nobody has said to me that they wish to retire.
"I don't know, but I think not. At this moment, we have a squad which is good enough to continue in this new campaign."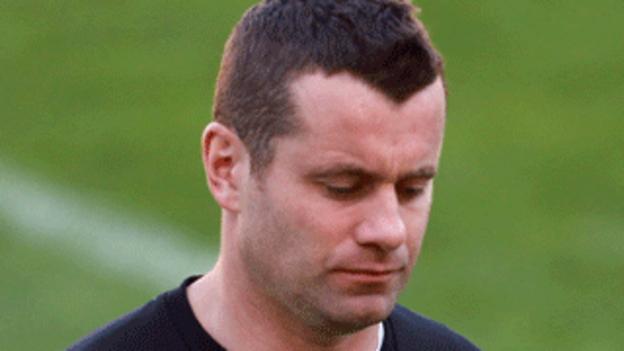 Trapattoni admitted in the immediate aftermath of the game that his players had been shackled by a fear and a tension he had not seen in them before, and his opinion had not changed after a second viewing of proceedings in Gdansk.
"I watched the game again and Spain were very, very strong, they were superior to us in every position on the pitch.
"Maybe, maybe it was the impact of the Euros. It's not a friendly, it's not a qualifier, it's very, very different.
"Many teams have players who play in the Champions League, play for their national teams, play in the Europa League - they have the habit, they have personality. It is clear.
"But we have these players and I am proud to have these players. We achieved qualification with these players and I must have respect for these players because they achieved this after 24 years."
Trapattoni, who defended his decision to deploy striker Simon Cox in a midfield role, something he abandoned at half-time, hinted he may make further changes for the Italy game.
However, he will not do so to the extent that he could be accused of opening the door for his own country to rescue themselves by handing them the victory they need to challenge for qualification.
"If we change now and suppose Italy beat Ireland, what do you think Spain and the other teams would say? That I maybe made it easy because I changed two or three players.
"You know the first rule of the manager? The manager must put on the pitch the strongest team, that is the number one rule."