Euro 2012: Giovanni Trapattoni responds to Roy Keane comments

By Conor McNamara
BBC Match of the Day commentator
Last updated on .From the section Euro 2012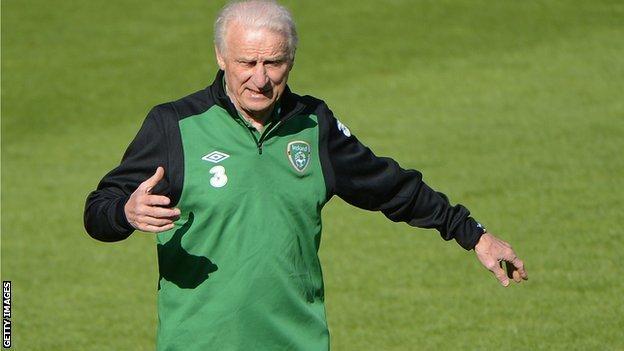 Republic of Ireland boss Giovanni Trapattoni has responded to Roy Keane's comments after the 4-0 loss to Spain.
Keane was unhappy that Irish players praised their fans after the match.
"It's just nonsense players speaking about how great the supporters are. They should be doing a lot better, not praising supporters," he said on ITV.
Trapattoni responded: "Roy was a great player. [But] what did he do after he stopped playing? He should concentrate on getting results as a coach..."
Keane believed the Irish players were avoiding their own shortcomings by speaking more about the fans in the stadium than their own performances on the pitch.
"I'm not too happy about all that nonsense…," said the former Republic captain. "I know we are a small country and we're up against it, but let's not just go along for the sing-song."
The former Manchester United midfielder famously left the squad before the 2002 World Cup in Saipan.
Kevin Kilbane, who won 110 caps for the Republic of Ireland, said: "I believe Roy Keane's comments were directed at the team, not the fans. When I played with him he always wanted Ireland to shake off the mentality of being 'happy just to be there' at major tournaments. Roy was such a fantastic player, he demanded maximum effort from all his team-mates."
Trapattoni does not intend to make wholesale changes for the final group game against Italy.
"It would not be fair to the other countries in the group if I did not select my best team," said the Italian.
Asked whether he would consider his own position in the wake of two heavy defeats at Euro 2012, Trapattoni signed off his media conference by prodding his finger on the table and saying: "With this team, and these players, I am proud. Tomorrow, we start for the future."