Euro 2012: France boss Blanc feared rain would ruin plan
Last updated on .From the section Euro 2012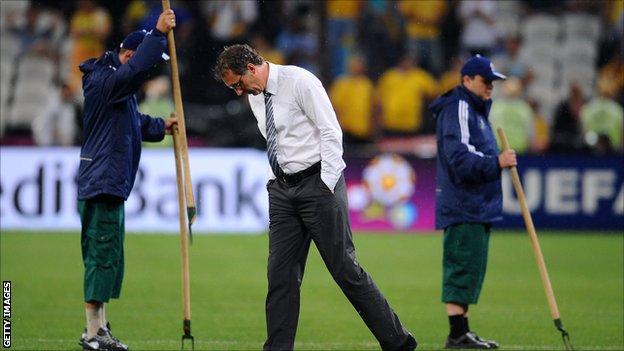 France boss Laurent Blanc has said his side were worried the rain-drenched pitch in Donetsk would ruin their game plan against Ukraine.
The teams were forced off for almost an hour after just four minutes because of stormy conditions.
However, France went on to win the game 2-0 thanks to second-half strikes from Jeremy Menez and Yohan Cabaye.
"We were worried the condition of the pitch would make it difficult to play our game," claimed Blanc.
"We had some plans in place in case it did - but we quickly saw that the pitch was in good condition."
At one stage, as lightning lit up the sky above and numerous puddles appeared on the pitch inside Donbass Arena, it looked like the game might have to be abandoned.
The storm subsided 20 minutes after the players left the pitch, but the standing water was still a cause for concern.
However, stadium staff worked tirelessly to drain the pitch and referee Bjorn Kuipers got the players back out with play resuming an hour after the scheduled start.
Having drawn their opening game in the tournament against England, Blanc was relieved the game was not called off as his side earned their first win at a major tournament since the semi-final of the 2006 World Cup when they beat Portugal.
A point against Sweden in their final group game on Tuesday will ensure their passage to the last eight of the tournament.
Blanc said: "When the game was suspended, our fear was that we wouldn't get to play it. We really wanted to play; we'd prepared for it.
"After our slow first 30 minutes against England this time the weather stopped us making a proper start to a game.
"We'll enjoy this one. As the French know very well, it's been a long time since we won a game at a major tournament.
"I hope our next win isn't in six years. If it is, then I want be here to talk about it because I'll have been fired long before."
Meanwhile, Ukraine coach Oleg Blokhin claimed some of his players had become complacent after their opening win over Sweden.
The co-hosts now have to beat England in their final group game on Tuesday to progress.
"As I said, the win against Sweden didn't mean anything, so if we thought we were through, we were wrong," Blokhin said.
"I think some players thought that and we'll have a serious conversation with them.
"This European Championship isn't the Ukrainian league, we have to play at a higher level game after game.
"We will analyse this. Of course, we are not happy. The fans aren't happy and nor am I. But I can't change anything; I can't change the result."