Euro 2012: Ibrahimovic & Larsson defiant following England defeat
Last updated on .From the section Euro 2012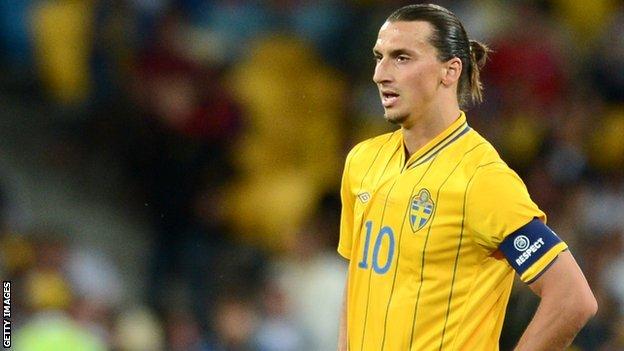 Zlatan Ibrahimovic and Sebastian Larsson say England were lucky to escape with a win in Kiev on Friday that saw Sweden depart Euro 2012.
Sweden striker and captain Ibrahimovic, 30, said: "I think we were the better team against England."
Sunderland midfielder Larsson agreed: "We were definitely better."
Sweden lost their first Euro 2012 game to co-hosts Ukraine 2-1, having also taken the lead. According to Ibrahimovic, his team need to improve their performance towards the end of matches.
"We should be proud of ourselves because we played a good game [against England]," the AC Milan forward said.
"But in both the games we have played we were in the lead, but after 60 minutes we lost it all.
"Why did we lose both games? I don't know. That is something we need to analyse and see what we need to do better, or in a different way."
Larsson, 27, was even more strident in his view that his side deserved at least a point from their game against England.
"Against England it feels like we were the best team, but it isn't always the best team that wins," he remarked.
"It is about taking points, and we didn't do that.
"It doesn't really matter now we are out of the tournament, but we were definitely better than England, but they are leaving with the points, so what can you say?"
Larsson also insisted he was at fault for England's equaliser, when Walcott hit a dipping strike from the edge of the area past Sweden goalkeeper Andreas Isaksson.
"Their equaliser happens one time in a thousand. It was a shot I should have covered and it hit me and deflected past the goalkeeper.
"With the last goal [from Danny Welbeck] it's one player against four of ours, like with the goals against Ukraine, so it is things like that which decide the outcome. We have not done well enough."