Osian Roberts hits back at Raymond Verheijen Wales claims
Last updated on .From the section Football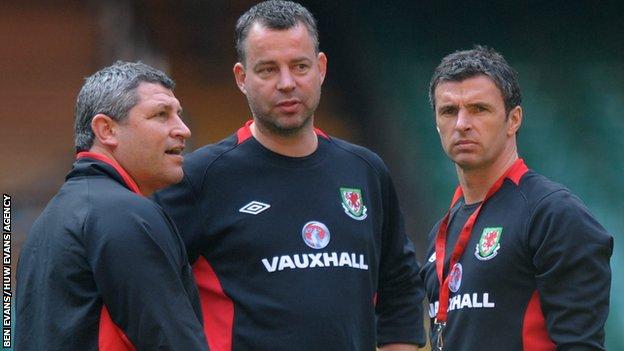 Wales assistant Osian Roberts has hit back at Raymond Verheijen's claims that the national side has been 'torn apart' since Gary Speed's death.
Former Wales assistant Verheijen feels the style played by Speed's side has changed since Chris Coleman took over.
Wales lost 2-0 to Mexico in Coleman's first game in charge in May and Roberts insists the criticism is harsh.
"Even though he talks about the style of play having changed, nothing has changed at all," said Roberts.
"Sometimes we have to remember that there's another team on the field and when that team is of Mexico's quality then of course the game will be different."
Verheijen joined Gary Speed's backroom team in February 2011 and by the end of the year Wales had moved into the top 50 of Fifa's world rankings for the first time since April 2003.
Following Speed's death in November, Verheijen expressed a wish for both him and Roberts to take charge of the national team and a figurehead be appointed.
The Football Association of Wales appointed Coleman as their new manager and while Roberts remained, Verheijen resigned from the Wales coaching set-up in February citing "political and destructive games" as his reason.
Verheijen once again criticised the FAW and described the governing body as "amateurs" before Russia, where he was a key member of Dick Advocaat's backroom team, were knocked out of Euro 2012 in the group stages.
"The people that run the FAW cannot handle strong personalities," Verheijen told Goal.com.
"I feel really sorry for the Welsh players because they are extremely talented and they deserve to qualify with the help of a good coaching staff.
"It was very sad to watch the Wales-Mexico game. Everything we carefully built in 2011 has been torn apart.
"There is hardly any playing style anymore. You don't have to be Einstein to see that the Welsh World Cup campaign is going to be a disaster."
Roberts, a member of Speed's team who has remained in the national set-up, told BBC Radio Cymru's Ar y Marc show that he was not surprised by his former colleague's comments.
"The only thing I'm surprised by is that it's taken him so long to have come out with something," Roberts said.
"We know that he likes to be controversial. The important thing to do is to keep everything in its context.
"When we went out to New York, it was the first time since last November that the players had been together to concentrate on football.
"There was plenty of rebuilding work things following that.
"Secondly Chris Coleman had his first week with the players, getting to know the players and the players getting to know him. That takes time.
"And the third thing to keep in context is we were playing against Mexico.
"Although we tend not to be conscious of Mexico's talent in this country, someone who is aware of them will know how effective they are.
"Only a few days later they beat Brazil by the same score, 2-0."
Wales' next match is a friendly at home to Bosnia-Hercegovina on 15 August before they their World Cup qualifying opener against Belgium in Cardiff on 7 September.