Liverpool close in on deal for Gylfi Sigurdsson from Hoffenheim
Last updated on .From the section Football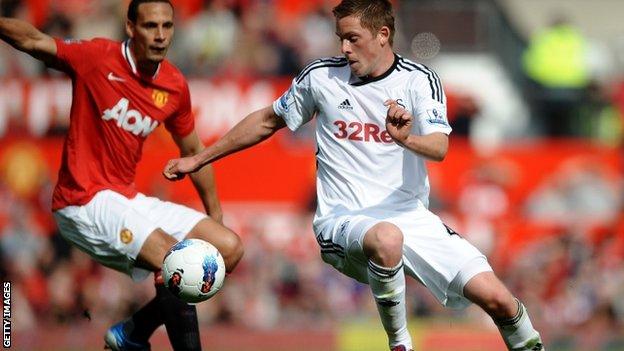 Liverpool have opened talks with Hoffenheim over a move for Gylfi Sigurdsson and a deal could be completed as early as next week.
Brendan Rodgers is keen to bring the midfielder to Anfield after the pair combined well during Sigurdsson's loan spell at Swansea last season.
The 22-year-old has privately expressed his desire to join Rodgers at Anfield, rather than join Swansea permanently.
Liverpool will pay in excess of the £6.8m fee Swansea agreed last month.
Sigurdsson had been on the brink of agreeing a permanent move to the south Wales club when Rodgers left for Anfield last month.
But despite having agreed terms with Swansea, Rodgers's departure prompted an immediate change of heart from Sigurdsson with the influence of his manager a key reason for his original decision.
The new Liverpool manager has made no secret of his desire to link-up with his former player, whom he also worked with in his brief spell at Reading in 2009.
"If he comes into the market for whatever reason - and I'm sure there'll be a number of clubs interested in Gylfi - then of course I would like to be in a position to put our case here at Liverpool to sign him," Rodgers said earlier this week.
"But I've always said I think he's a player Swansea have had an agreement with and they have to have every chance to try to sign him. That's only right. If anything changes from that, we'll look at it from there."
The personal wishes of Sigurdsson have, however, brought an end to Swansea's hopes of signing the player, leaving the way clear for Liverpool to make their first signing under Rodgers.
More are likely to follow. "I think there are a few players who can come in and improve the group straight away," Rodgers added. "I know the types of player I need to bring here to make us function well and that's something myself, the club and the board will look at.
"I know what we've got, more or less, in the squad, but I also know there are a couple of signings that could really improve what we do."