Euro 2012: Poland coach Franciszek Smuda leaves post
Last updated on .From the section Euro 2012
Poland coach Franciszek Smuda has announced he is to leave his post following the co-host's elimination from Euro 2012.
"This is 100% the end of the road. My contract runs out at the end of Euro 2012," a visibly upset Smuda told Poland's public TVP broadcaster.
Poland failed to advance from Group A following Saturday's 1-0 defeat by Czech Republic in Wroclaw.
"We did what we could do. It is the end of this great adventure," added Smuda.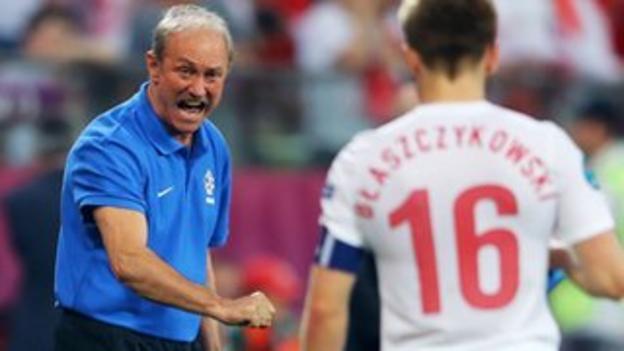 The 63-year-old, who took over in 2009, revealed he had already agreed with the Polish Football Association that his contract would not be renewed after the tournament.
"I don't have to resign because I had a contract until the end of Euro 2012 and I do not see any reason to quit," he said.
"The contract is finishing because I had come to terms with the head of the FA. I know what will now happen."
Smuda's reign would have been extended had the Poles, who are still to taste victory in a European Championship finals match, beaten the Czechs and qualified for the knockout phase.
And the ex-Lech Poznan boss rued the inability of his side to reproduce their plucky display in Tuesday's 1-1 draw against Russia, which gave them an opportunity to progress.
"We have to swallow this bitter pill. We were too sure about the possibility of winning against the Czechs," said Smuda.
"We wanted to counter attack but the Czechs were very solid in defence. They were pressing and they were better.
"I don't know how to explain the fact that in one game the boys played like they were fired up while in the second game they didn't.
"We did our best. Unfortunately, we had a lot of missed passes. In the second period, we had to fight non-stop to get the ball back."
Poland captain Jakub Blaszczykowski, who provided one of the highlights of the co-host's campaign with a thunderous equaliser against the Russians, believes the tournament has been an important learning curve for his nation.
"All in all, we had great moments during this tournament and all we can say is 'thanks'," said the Borussia Dortmund midfielder.
"This is the kind of moment when one needs to say we need to move on, rethink everything, but such experience is essential."