Football Association announce 2013 England-Scotland friendly
Last updated on .From the section Football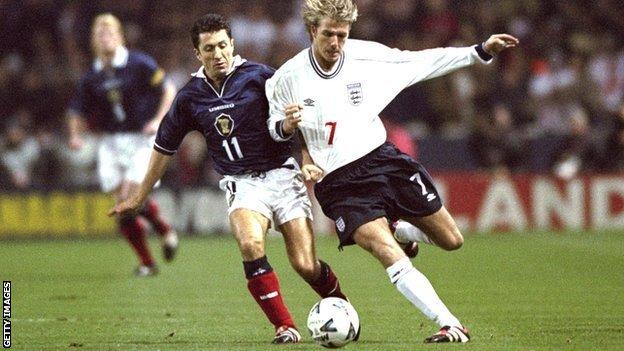 England will play Scotland at Wembley in a friendly to mark the Football Association's 150th anniversary.
The game is the oldest in international football, dating back to a match in Partick in November 1872.
England manager Roy Hodgson said: "It will be a huge honour to lead our nation out against our oldest rivals."
England and Scotland are international football's oldest opponents. They met in the first official match ever played, a 0-0 draw outside of Glasgow in front of a crowd of 4,000.
A total of 110 meetings have taken place, and Hodgson is enthusiastic about the 111th: "England versus Scotland is one of the finest fixtures in international football and I know what this game means to both sets of supporters.
"It will be a fitting part of The FA's 150th anniversary celebrations and the supporters, the team and my coaching staff all look forward to welcoming Scotland to Wembley Stadium next year."
Scotland boss Craig Levein is similarly keen: "For any Scotland supporter, player or coach, Scotland versus England is the ultimate contest: it really is as good as it gets.
"It will also be the best test possible before we resume our World Cup qualifying campaign next year."
The FA also announced intentions to schedule further high-profile fixtures to mark the anniversary.
They have also revealed a friendly against Italy to be played in Berne, Switzerland, on Wednesday, 15 August, England's first match after Euro 2012. The last time England took on the Azzurri was in 2002, losing 2-1 at Elland Road to a Vincenzo Montella brace.
Former Scotland midfielder Archie Gemmill, who won five of his 43 caps against England, welcomed the news.
"I think it will be good for everybody concerned, because the fixture has been missing for a very long time and it was always a fixture that every Scotsman and, I dare say, every Englishman would look forward to at the end of the season," the former national captain told BBC Scotland.
"Always playing against England was a highlight, so I don't think it will be any different now."
The 65-year-old, who won two and lost three against the Auld Enemy, hopes that a successful Wembley friendly might lead to the re-establishment of regular games between the two countries.
"When we played, it was a nine-month circuit and that was it, but nowadays football more or less goes for 11 and a half months of the year, so it's very difficult," said Gemmill.
"But I'm sure, if the game goes ahead and its a spectacle for everybody concerned, and there are no problems off the pitch, then I see no reason why it should not go ahead again.
"At the end of the football season, it was nice to have the Home Internationals, where, within the space of seven or eight days, you played three games that always culminated in playing England in the last fixture."
The announcement coincided with the publication of a new book, First Elevens: the birth of international football, written by former Scottish Football Association head of communications Andy Mitchell, exploring the world's first international fixture between the sides in 1872.