Euro 2012: Steve Staunton asks 'where is the next generation?'

By Steve Staunton
Former Republic of Ireland captain and manager
Last updated on .From the section Euro 2012
When I played at World Cups with the Republic of Ireland, the way we performed at those finals always left us full of confidence going into our next qualifying campaign.
That has not happened so far at Euro 2012, where we were the first team to be knocked out after defeats by Croatia and Spain.
So it is vital we salvage some pride against Italy in Poznan on Monday in our final Euro 2012 group game.
At the same time, also looking towards the 2014 World Cup, I think it is vital that Giovanni Trapattoni gives some experience of this sort of stage to some of his younger players.
There has been talk of players like Shay Given, Robbie Keane, Damien Duff and Richard Dunne retiring from international football after this tournament.
From seeing what Robbie has been saying recently, I think he will continue playing for Ireland, but it is up to those players as individuals to decide what is right for them. Nobody can tell them to carry on playing.
I quit after the 2002 World Cup, because I just knew it was the right time for me to go.
If they do decide they have had enough, then they can hold their heads up high - just qualifying for these finals was a major achievement for them and the manager too, even if it has not gone great for us over there.
The problem is that, although we have some promising young strikers like Shane Long, I don't know much about where the next goalkeeper, defenders or midfielders are coming from.
That is the downside of Trapattoni being so reluctant to blood new talent and largely stick with a settled and experienced side during his time in charge.
Looking ahead was part of our agenda when I had the manager's job - we had 'B' internationals and a younger crew of players champing at the bit.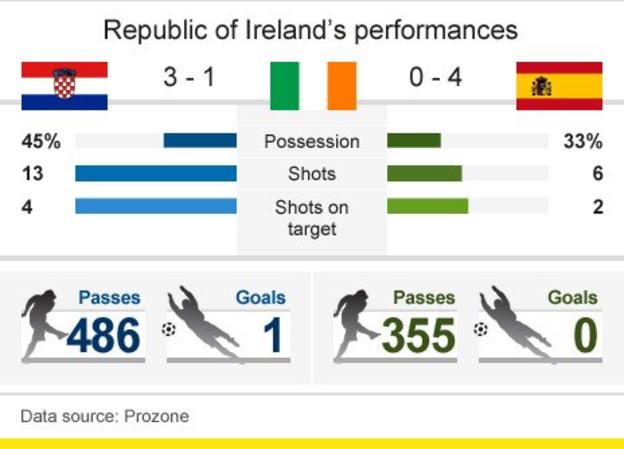 We tried to put things in place so that new players were pushing the older ones, and also so they would eventually be ready to replace the established internationals when the time came.
I don't know what the structure is now, or what Trapattoni has in mind for the next campaign, but it might come under greater scrutiny after what has happened in Poland.
We are all experts after the event, but I don't think we did ourselves any favours against Spain or Croatia.
Spain are the best team in the world but we could have made it a lot harder for them to win that game in Gdansk on Thursday than we did.
For me, we have to be a bit more honest about where we are at and say 'look, we are not better than these teams, we are going to have to make it tough for them'.
That was always our forte when I was playing for Ireland - we always made it difficult for whoever our opponents were. Unfortunately, that has not happened at Euro 2012.
Against Spain, we should have packed the midfield, which is what all the good sides in the Champions League and Premier League or at international level do what they are playing each other.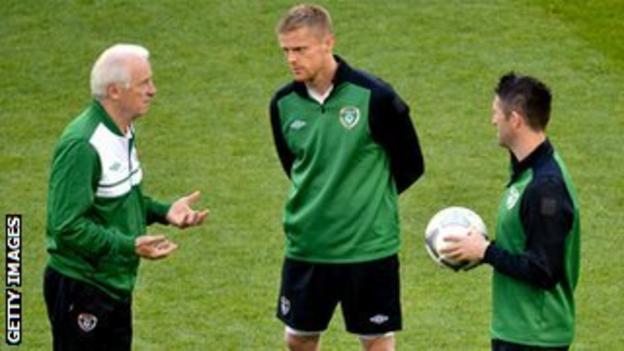 Even when Jack Charlton was manager of Ireland, we would sometimes play a five-man midfield because Jack realised that, tough as we were to beat anyway, there was a need for us to put an extra man in the centre of the park.
He knew that it didn't matter whether you played six at the back or six in midfield, you always create a chance, from a set-piece or whatever.
So it is all about staying in the game, something we have not done at these finals.
In fact we have shot ourselves in the foot in both games with the mistakes we have made.
Goals at the start of each half have killed us in both matches. It is demoralising to concede like that and you are left chasing the game.
We will learn from it, but it is important it doesn't happen again against Italy.
And for us to sign off with a win would be nothing less than the Ireland fans deserve for their support in Poland.
Irish fans are the best in the world. They go to these tournaments to enjoy themselves, and why shouldn't they? They pay good money to do that.
They never let the country down, never get in trouble and are always well respected every where they go.
These are our first major tournament finals for 10 years and the supporters have reminded people why they have got such a good reputation and are so well-liked wherever they go.
I would love it if they get a chance to show that in Brazil in 2014 too.
Steve Staunton was speaking to BBC Sport's Chris Bevan.