Michael Laudrup not getting big funds at Swansea City
Last updated on .From the section Football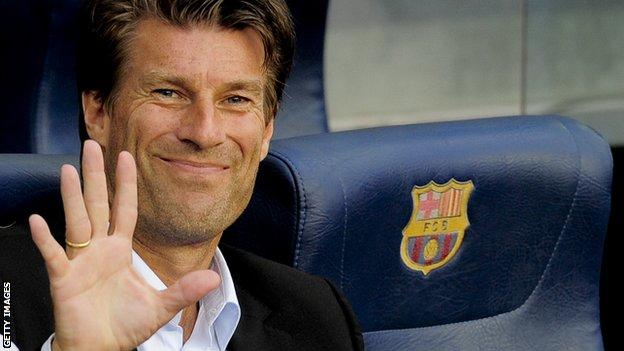 Swansea City chairman Huw Jenkins says new manager Michael Laudrup will not be handed a massive transfer budget.
But Jenkins says the club will not spend unnecessarily on new players.
"There will be no money handed to Michael Laudrup or any other manager," he said.
"Every player we bring into this club will be discussed and agreed between ourselves.
"If we feel it's right for us then we'll make every attempt as always to make sure that we bring in and spend whatever the manager sees fit.
"Most of the work where we felt we needed to strengthen has already been done by what we did last year. I don't think a lot of that is going to change.
"It's a matter of sitting down with the manager and looking at different options and where we see us moving forward with how are we going to start next season.
"We'll just focus on making sure we get a strong squad in readiness to having another massive challenge in August."
Former Denmark and Barcelona star Laudrup has been appointed the new Swansea manager on a two-year contract.
Jenkins insists they are not worried about the prospect of losing out on Sigurdsson, who could be set to join Rodgers at Liverpool.
The Iceland midfielder spent the second half of last season on loan at the Liberty Stadium and had verbally agreed a permanent move to the Swans from Hoffenheim.
And although Swansea are still interested in the signing the 22-year-old, Jenkins says the club are prepared to look at other options.
"We made the bid for Gylfi in good faith at the time when Brendan was with us. Things have changed since," said Jenkins.
"Now we've gone down a different direction with Michael Laudrup.
"There's no focus on any one player that's going to dramatically change our fortunes, up or down.
"We've just got to make sure as always, whether it's Gylfi Sigurdsson or whether it's somebody else, we bring the right players to suit us playing the right way.
"We'll do what we need to do and get our squad right before the season starts."
The forthcoming season's Premier League fixtures will be released on Monday and while Jenkins is looking forward to the new campaign he is well aware of the challenges ahead.
"It will be excitement filled with apprehension of a new season with a new manager," said Jenkins.
"You're all praying and have fingers crossed that it's going to work out well.
"We all know we're in the toughest league of all and this year with three promoted sides who are going to be very, very competitive it's going to be the toughest Premier League for a long while.
"Whether it would be with Brendan or now with Michael Laudrup, it's going to be a massive challenge for us all.
"As always we start off with a thought we'll just do our best and try and compete and enjoy it and hopefully at the end of the year we're still in the Premier League."