Euro 2012: Germany coach expects improvement
Last updated on .From the section Euro 2012
Germany coach Joachim Loew has warned his side will improve after clinching their place in the quarter-finals of Euro 2012 with a 2-1 win over Denmark.
The 1996 champions dominated for long periods during the win in Lviv but Loew said his side would get better still.
"We showed maturity in the second half, but we can still improve." he said. "We lacked the killer instinct."
Germany, who topped Group B with a 100% record, will now play Greece in the last eight in Gdansk on Friday.
Loew's side had the chances to beat Denmark far more comfortably than they ultimately did. Victory was only assured 10 minutes from time when Lars Bender broke forward to score his first goal for Germany.
Denmark's Michael Krohn-Dehli had earlier cancelled out Lukas Podolski's 19th-minute goal. But Loew insisted he always expected a tough game.
"The match was just as tough as we thought it would be," he said.
"We lacked the killer instinct in the first half, which would have made it easier, and then Denmark scored. We knew we could have gone out if we had gone behind, so nerves crept in."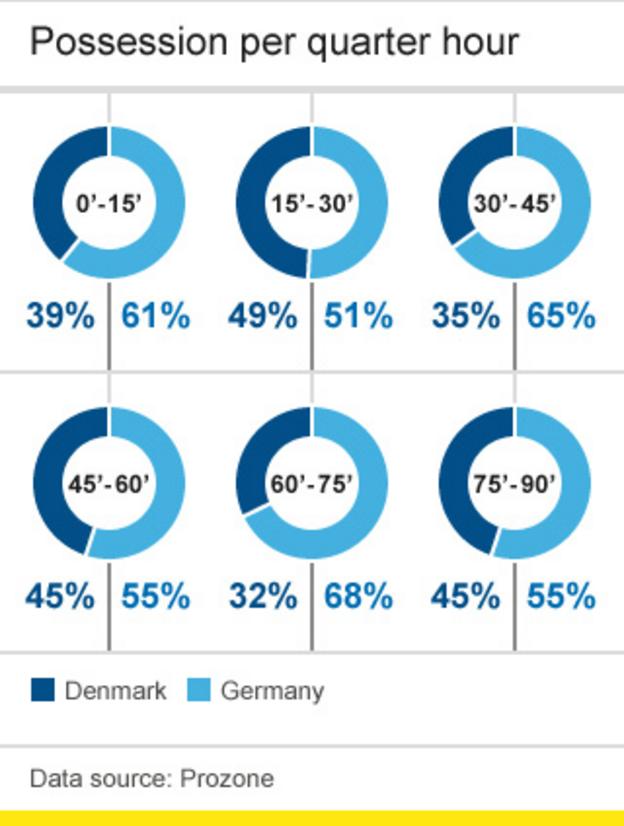 With Portugal leading against the Netherlands going into the last 20 minutes, one goal for Denmark would have sent Germany home but Loew insisted he had never been concerned. "I had a plan," he said. "Of course I had considered what would have happened if Denmark had in some way suddenly scored a goal but I never had that feeling.
"I was pretty relaxed because it doesn't get you anywhere when you panic. Bastian Schweinsteiger and Sami Khedira were always in control and I just had the feeling we would score."
Denmark sat deep for long periods, frustrating Germany and Loew expects the same type of encounter in the last eight. "Greece will be similar and will try to take the tempo out like Denmark," he added.
Denmark coach Morten Olsen expressed his pride at his side's performance and explained why Loew had the impression that his side were so negative. "If you try to put them under pressure, then you can get punished quickly," he said.
"Being 1-1 was a good result for us because then you just need a lucky punch maybe with a set-piece, but if you gamble too much, they can hit you quickly. We are disappointed not to have gone through, but this team has a future."