Championship fixtures: Bolton handed opening Burnley test
Last updated on .From the section Football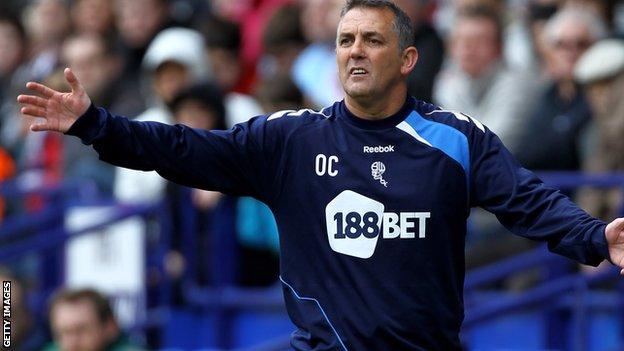 Bolton manager Owen Coyle will face former club Burnley on the opening day of the 2012-13 Championship season.
Bolton's 11-year stay in the Premier League came to end when they could only draw with Stoke on the final day of the last campaign.
Blackburn start their season away to Ipswich, while Wolves play Leeds United at Elland Road.
The three sides promoted from League One are also all away on the first day of 2012-13.
Charlton Athletic will go to St Andrews to play Birmingham City, Derby will host Sheffield Wednesday while Huddersfield Town, who went up via the play-offs, travel to Cardiff City, who will be wearing their controversial new red home kit.
Blackpool, who missed out on promotion after losing the play-off final to West Ham, start their season away to Millwall while Steve Bruce's Hull City are at home to Brighton for their opening game.
Nottingham Forest and Bristol City, who both finished last season just above the relegation zone, face each other at the City Ground.
Peterborough, one place above Forest at the end of the last season, are away at Leicester and Crystal Palace host Watford.
The first visitors to Bolton will be Derby County, Blackburn's home campaign starts when they play Hull City in their second fixture, while Wolves will host Barnsley for their first home game.
The first meeting between two of the former Premier League sides is scheduled for 6 October when Blackburn play Wolves at Ewood Park. Bolton travel to Molineux on 23 October.
The Blackburn v Bolton local derby at Ewood Park has been pencilled in for 28 November.
The new season's fixtures are preceded by the first round of the League Cup, which was drawn last week and will take place in the week beginning 13 August.
SELECTED NEW SEASON FIXTURES
Opening day - Saturday 18 August
Barnsley v Middlesbrough
Birmingham City v Charlton Athletic
Burnley v Bolton Wanderers
Cardiff City v Huddersfield Town
Crystal Palace v Watford
Derby County v Sheffield Wednesday
Hull City v Brighton & Hove Albion
Ipswich Town v Blackburn Rovers
Leeds United v Wolverhampton Wanderers
Leicester City v Peterborough United
Millwall v Blackpool
Nottingham Forest v Bristol City
Tuesday 21 August
Blackpool v Leeds United
Bolton Wanderers v Derby County
Brighton & Hove Albion v Cardiff City
Bristol City v Crystal Palace
Charlton Athletic v Leicester City
Huddersfield Town v Nottingham Forest
Middlesbrough v Burnley
Peterborough United v Millwall
Sheffield Wednesday v Birmingham City
Watford v Ipswich Town
Wolverhampton Wanderers v Barnsley
Wednesday 22 August
Blackburn Rovers v Hull City
Boxing Day - Wednesday 26 December
Barnsley v Birmingham City
Bolton Wanderers v Sheffield Wednesday
Brighton & Hove Albion v Millwall
Bristol City v Watford
Burnley v Derby County
Cardiff City v Crystal Palace
Charlton Athletic v Ipswich Town
Huddersfield Town v Blackpool
Hull City v Leicester City
Middlesbrough v Blackburn Rovers
Nottingham Forest v Leeds United
Wolverhampton Wanderers v Peterborough United
Final day of season - Saturday 4 May
Birmingham City v Blackburn Rovers
Bolton Wanderers v Blackpool
Brighton & Hove Albion v Wolverhampton Wanderers
Burnley v Ipswich Town
Charlton Athletic v Bristol City
Crystal Palace v Peterborough United
Derby County v Millwall
Huddersfield Town v Barnsley
Hull City v Cardiff City
Nottingham Forest v Leicester City
Sheffield Wednesday v Middlesbrough
Watford v Leeds United
Reproduced under licence from Football DataCo Limited. All rights reserved. Licence number NEWMEDIA/BBCINT/147806a. Copyright © and Database Copyright 2012 Football DataCo Ltd, The Football Association Premier League Ltd / The Football League Ltd / The Scottish Premier League Ltd / The Scottish Football League. All rights reserved. No part of this publication may be reproduced, stored in a retrieval system or transmitted in any way or by any means, (including photocopying, recording or storing it in any medium by electronic means), without the written permission of the copyright/database copyright owner. Applications for written permission should be addressed c/o Football DataCo Ltd, 30 Gloucester Place, London W1U 8PL.