Swansea City fixtures: Michael Laudrup's league opener at QPR
Last updated on .From the section Football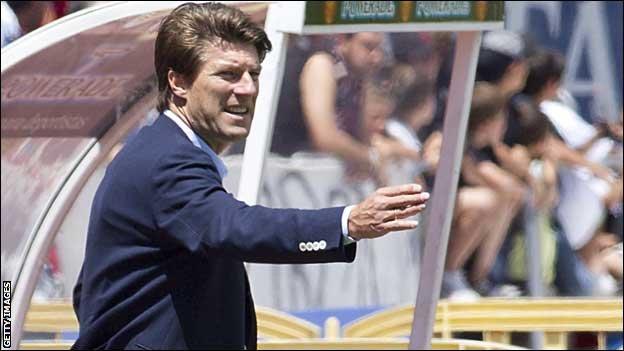 Michael Laudrup's first Premier League game as Swansea City boss will be away at Mark Hughes's Queens Park Rangers.
The new Swans manager will travel to Loftus Road on Saturday, 18 August before his first home game against newly-promoted West Ham a week later.
Former manager Brendan Rodgers returns to the Liberty Stadium with his new Liverpool side on 24 November before the return at Anfield on 23 February.
Swansea have a tough run-in against against three Champions League teams.
The Swans visit European champions Chelsea, Premier League winners Manchester City and runners-up Manchester United in three of their last four games.
The Welsh club will welcome another former boss Roberto Martinez when his Wigan Athletic side visit the Liberty Stadium on 20 October.
Swansea's return fixture with Wigan is on 13 April is in the middle of a tricky run-in as the club hope to secure survival in the top-flight.
The Swans finished 11th in their debut Premier League season despite a difficult conclusion, losing at Manchester United and beating Carling Cup winners Liverpool.
Swansea chairman Huw Jenkins admitted: "We look forward to the new season with excitement tinged with apprehension of a new season with a new manager as we're praying that it will work out well.
"But even if Brendan was still with us, at this level of football you've no guarantees year on year what season you have in front of you.
"We all know we're in the toughest league of all and this year, with three promoted sides who will be very competitive spending money bringing players in, and it will be one the toughest Premier Leagues seasons for a long while.
"It will be a massive challenge for us all and we'll start off with the thought that we will just do our best, compete and enjoy it and at the end of the year hopefully we'll still be in the Premier League."
Swansea City fixtures 2012/13
August
18 Queens Park Rangers (A)
25 West Ham United (H)
September
1 Sunderland (H)
15 Aston Villa (A)
22 Everton (H)
29 Stoke City (A)
October
6 Reading (H)
20 Wigan Athletic (H)
27 Manchester City (A)
November
3 Chelsea (H)
10 Southampton (A)
17 Newcastle United (A)
24 Liverpool (H)
27 West Bromwich Albion (H)
December
1 Arsenal (A)
8 Norwich City (H)
15 Tottenham Hotspur (A)
22 Manchester United (H)
26 Reading (A)
29 Fulham (A)
January
1 Aston Villa (H)
12 Everton (A)
19 Stoke City (H)
29 Sunderland (A)
February
2 West Ham United (A)
9 Queens Park Rangers (H)
23 Liverpool (A)
March
2 Newcastle United (H)
9 West Bromwich Albion (A)
16 Arsenal (H)
30 Tottenham Hotspur (H)
April
6 Norwich City (A)
13 Wigan Athletic (A)
20 Southampton (H)
27 Chelsea (A)
May
4 Manchester City (H)
12 Manchester United (A)
19 Fulham (H)
Reproduced under licence from Football DataCo Limited. All rights reserved. Licence number NEWMEDIA/BBCINT/147806a. Copyright © and Database Copyright 2012 Football DataCo Ltd, The Football Association Premier League Ltd / The Football League Ltd / The Scottish Premier League Ltd / The Scottish Football League. All rights reserved. No part of this publication may be reproduced, stored in a retrieval system or transmitted in any way or by any means, (including photocopying, recording or storing it in any medium by electronic means), without the written permission of the copyright/database copyright owner. Applications for written permission should be addressed c/o Football DataCo Ltd, 30 Gloucester Place, London W1U 8PL.