Cardiff City fixtures: Bluebirds to wear red against Huddersfield
Last updated on .From the section Football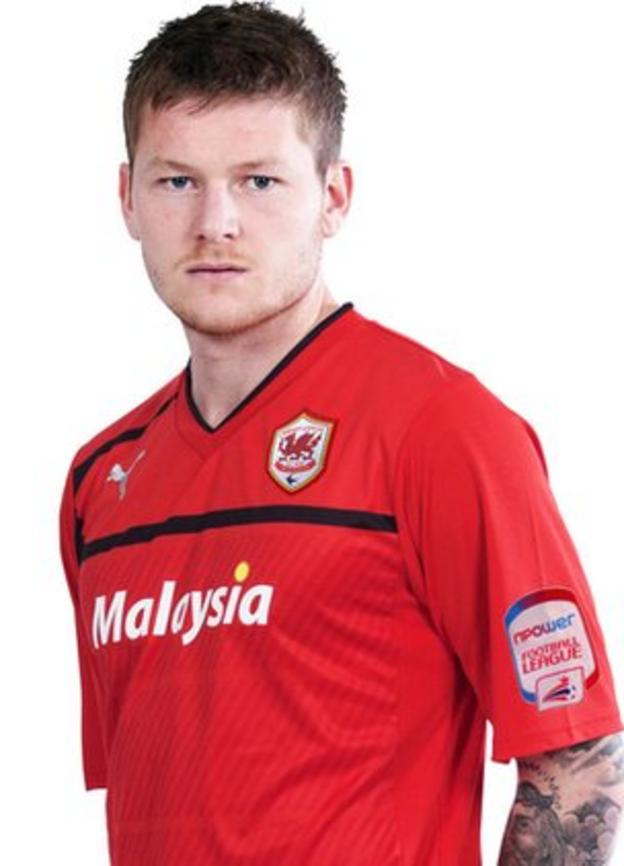 Cardiff City will wear their new red kit for the first time against newly-promoted Huddersfield Town on the opening day of the Championship season.
Cardiff will play in their traditional blue, now their away strip, against Northampton in the first round of the League Cup in the week of 13 August.
But Cardiff will host Huddersfield in red on Saturday, 18 August before trips to Brighton and Bristol City.
Dave Jones will return to Cardiff on 1 December with Sheffield Wednesday.
The former Cardiff manager, who guided the Bluebirds to back-to-back Championship play-offs before being sacked in May 2011, comes back to the Cardiff City Stadium with his newly-promoted side in the run up to Christmas before the return match at Hillsborough on 16 March.
"It will be good as Dave took the club from where it was to where it is now," said club captain Mark Hudson.
"He did a great job and I'm sure he is still a fans's favourite. It will be a good contest as he would be wanting to come to pick up the points and we won't want that to happen.
"He has done well by getting his new team promoted but he'll be coming back here to sort of maybe prove a point. He will be burning to get a result here but we'll be ready and hopefully flying high."
Cardiff suffered a third successive play-off defeat last season under new boss Malky Mackay and Hudson expects the Welsh club to strengthen their squad.
Club owner Tan Sri Vincent Tan has pledged a £100m investment to help Cardiff's Premier League promotion push.
Cardiff signed 10 players in a summer of upheaval following Jones's departure in 2011 as 12 players followed Jones out of the Cardiff City Stadium.
But Hudson said: "We're a more settled group now.
"We've achieved a lot of things this season, we got to the Carling Cup and the play-offs and we've gelled.
"We've grown as a group and if we add one or two, which I'm sure we will do, I'm sure we will be wanting to be in that top six and maybe go the extra step."
Cardiff City fixtures 2012/13
August
18 Huddersfield Town (H)
21 Brighton and Hove Albion (A)
25 Bristol City (A)
September
1 Wolverhampton Wanderers (H)
15 Leeds United (H)
18 Millwall (A)
22 Crystal Palace (A)
29 Blackpool (H)
October
2 Birmingham City (H)
6 Ipswich Town (A)
20 Nottingham Forest (A)
23 Watford (H)
27 Burnley (H)
November
3 Bolton Wanderers (A)
6 Charlton Athletic (A)
10 Hull City (H)
17 Middlesbrough (H)
24 Barnsley (A)
27 Derby County (A)
December
1 Sheffield Wednesday (H)
8 Blackburn Rovers (A)
15 Peterborough United (H)
22 Leicester City (A)
26 Crystal Palace (H)
29 Millwall (H)
January
1 Birmingham City (A)
12 Ipswich Town (H)
19 Blackpool (A)
26 Leicester City (H)
February
2 Leeds United (A)
9 Huddersfield Town (A)
16 Bristol City H
19 Brighton and Hove Albion (H)
23 Wolverhampton Wanderers (A)
March
2 Middlesbrough (A)
5 Derby County (H)
9 Barnsley (H)
16 Sheffield Wednesday (A)
30 Peterborough United (A)
April
1 Blackburn Rovers (H)
6 Watford (A)
13 Nottingham Forest (H)
16 Charlton Athletic (H)
20 Burnley (A)
27 Bolton Wanderers (H)
May
4 Hull City (A)
Reproduced under licence from Football DataCo Limited. All rights reserved. Licence number NEWMEDIA/BBCINT/147806a. Copyright © and Database Copyright 2012 Football DataCo Ltd, The Football Association Premier League Ltd / The Football League Ltd / The Scottish Premier League Ltd / The Scottish Football League. All rights reserved. No part of this publication may be reproduced, stored in a retrieval system or transmitted in any way or by any means, (including photocopying, recording or storing it in any medium by electronic means), without the written permission of the copyright/database copyright owner. Applications for written permission should be addressed c/o Football DataCo Ltd, 30 Gloucester Place, London W1U 8PL.