SPL fixtures: 'Club 12' travel to Kilmarnock for opener
Last updated on .From the section Football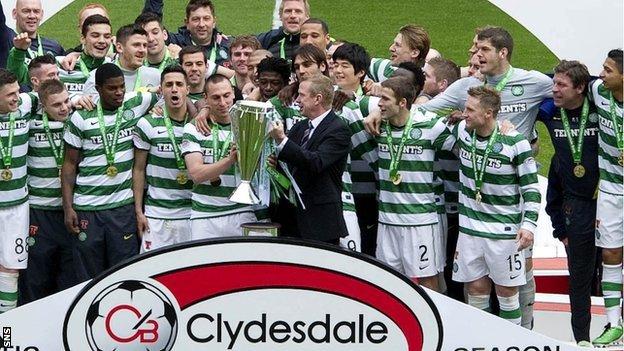 The Scottish Premier League has scheduled "Club 12" to play Kilmarnock at Rugby Park on the opening day of season 2012-13 on Saturday 4 August.
The league has a space available as Rangers are being liquidated and the member clubs have yet to vote on whether the "newco" can take its place.
Champions Celtic will begin their campaign when they host Aberdeen.
Hearts host St Johnstone, newly promoted Ross County welcome Motherwell and Inverness CT travel to St Mirren.
Hibernian manager Pat Fenlon takes his defeated Scottish Cup finalists to Tannadice to play Dundee United on Sunday 5 August.
The SPL announced on Monday that, following the failure of Rangers to exit administration via a company voluntary arrangement, it has now received an application "to register the transfer of their SPL share to a newco".
SPL secretary Iain Blair said: "Should it be rejected, then another club may be invited to join the SPL for season 2012-13."
That place is likely to fall to either Dundee, who were runners-up to County in the Scottish First Division last season, or Dunfermline, who finished bottom of the SPL last term.
In the second weekend of the SPL season, Celtic's home match against Dundee United, scheduled for 11 August, has been postponed to allow Neil Lennon's side to play Real Madrid in the United States.
With Rangers' SPL future uncertain, there is no Old Firm New Year fixture. Instead, Celtic will play Motherwell on Wednesday 2 January.
After that round of matches there is a winter break in the SPL until Saturday 19 January, the effect of which is to create more midweek matches.
The league will split into two sections of six after three rounds of matches, with teams playing their 34th league game of the season on 20 April.
There will also be fixtures on the weekends of 27 April, 4 May and 11 May.
The season concludes on the weekend of 18 and 19 May, with the bottom-six games on the Saturday and the top-six fixtures on the Sunday.
SELECTED NEW SEASON FIXTURES
Saturday 4 August
Celtic v Aberdeen
Hearts v St Johnstone
Kilmarnock v Club 12
Ross County v Motherwell
St Mirren v Inverness Caledonian Thistle
Sunday 5 August
Dundee United v Hibernian
Saturday 11 August
Aberdeen v Ross County
Celtic v Dundee United
Club 12 v St Mirren
Hibernian v Hearts
Inverness Caledonian Thistle v Kilmarnock
Motherwell v St Johnstone
Boxing Day - Wednesday 26 December
Club 12 v Celtic
Dundee United v St Johnstone
Hibernian v Ross County
Inverness Caledonian Thistle v St Mirren
Kilmarnock v Hearts
Motherwell v Aberdeen
Final fixtures before split - Saturday 6 April
Celtic v Hibernian
Dundee United v Aberdeen
Hearts v Ross County
Inverness Caledonian Thistle v St Johnstone
Kilmarnock v Club 12
Motherwell v St Mirren
Reproduced under licence from Football DataCo Limited. All rights reserved. Licence number NEWMEDIA/BBCINT/147806a. Copyright © and Database Copyright 2012 Football DataCo Ltd, The Football Association Premier League Ltd / The Football League Ltd / The Scottish Premier League Ltd / The Scottish Football League. All rights reserved. No part of this publication may be reproduced, stored in a retrieval system or transmitted in any way or by any means, (including photocopying, recording or storing it in any medium by electronic means), without the written permission of the copyright/database copyright owner. Applications for written permission should be addressed c/o Football DataCo Ltd, 30 Gloucester Place, London W1U 8PL.