AFC Bournemouth appoint Dennis Rofe as first-team coach
Last updated on .From the section Football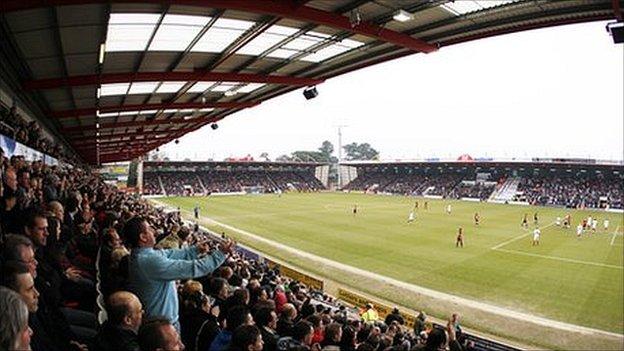 Bournemouth have appointed Dennis Rofe as their new first-team coach.
Rofe, 62, formerly coached and played at Southampton and also managed Bristol Rovers. He becomes the latest addition to manager Paul Groves' backroom staff.
He joins Shaun Brooks (assistant), Neil Moss (keeper coach), Steve Hard (physio), Dave Gardener (therapist), Dan Hodges (sports scientist) and Garvan Stewart (performance analyst).
"I can't really explain how excited I am," Rofe told BBC Radio Solent.
Rofe had been working for the Football League as a regional youth development officer but said the chance to join Bournemouth was too good an opportunity to pass up.
"I had turned down a few offers from clubs because I have done the 'living away from home' experience, which isn't easy for coaches," he said.
"So I took this job at the Football League and I could have done it for the next 10 years. But all of a sudden Paul rang me up completely out of the blue. I've been to meet him a few times and it got my adrenaline flowing.
"I am really looking forward to the challenge, Portsmouth away, first game of the season. I'm like a kid with a new toy."
And manager Groves said he too is excited by his side's League One opener at south-coast neighbours Portsmouth.
Groves spent four years at Fratton Park as coach and was caretaker manager for a spell in 2009.
"It's a great fixture for the fans," admitted Groves.
"It is a fantastic attraction to go and play at Portsmouth with the two clubs being so close together. It is great fixture for us.
"One or two of the staff, including myself have worked at Portsmouth. It gives the game a bit of added spice and makes it extra special but at the end of the day the result is the most important thing and those sentiments have to go out of the window.
"As a manager you try and take the emotion out of it but you look at the first few fixtures and you see Portsmouth and Sheffield United which are tough fixtures.
"But you do have to play them at some stage of the season, and you have to make sure you are as best prepared as you can be when those games come around."
With Charlton, Sheffield Wednesday and Huddersfield promoted from League One last season, Groves admits the division looks easier this year.
"On paper the division is easier this season. But games aren't won on paper," he added.