Ballinamallard handed Dungannon Premiership opener
Last updated on .From the section Football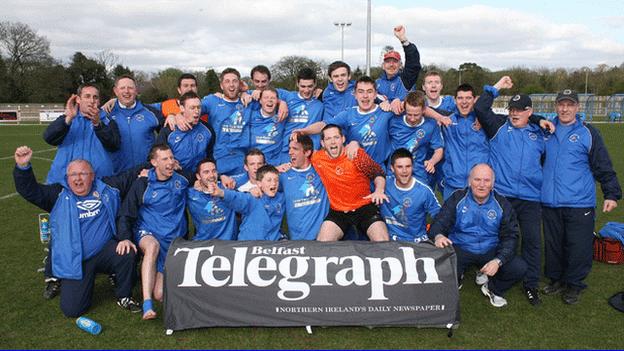 Ballinamallard United will begin life in the IFA Premiership with a home game against Dungannon Swifts on 11 August.
Whitey Anderson's side became the first Fermanagh side to earn a place in the Irish League top flight when they won the Championship in March.
Champions Linfield face an away opener against Ballymena United with Portadown at home to Lisburn Distillery.
Coleraine will be at home to Crusaders, Cliftonville face Glenavon at Solitude with Glentoran meeting Donegal Celtic.
The meeting between Coleraine and Crusaders will be a repeat of last year's League Cup final.
The first big two game of the season will take place on 2 September when Glentoran will have home advantage for the clash with the champions.
Ballinamallard officials are hopeful that they will be able to host their home matches at their own ground.
If they are unable to do this, they have the option of playing their home fixtures at Dungannon Swifts' Stangmore Park stadium.
Saturday, 11 August, 2012
Ballinamallard United v. Dungannon Swifts
Ballymena United v. Linfield
Cliftonville v. Glenavon
Coleraine v. Crusaders
Glentoran v. Donegal Celtic
Portadown v. Lisburn Distillery
Saturday, 18 August
Crusaders v. Ballymena United
Donegal Celtic v. Portadown
Dungannon Swifts v. Cliftonville
Glenavon v. Glentoran
Linfield v. Coleraine
Lisburn Distillery v. Ballinamallard United
Saturday, 25 August
Ballinamallard United v. Ballymena United
Cliftonville v. Glentoran
Glenavon v. Dungannon Swifts
Linfield v. Donegal Celtic
Lisburn Distillery v. Crusaders
Portadown v. Coleraine
Saturday, 1 September
Ballymena United v. Lisburn Distillery
Coleraine v. Cliftonville
Crusaders v. Ballinamallard United
Donegal Celtic v. Glenavon
Dungannon Swifts v. Portadown
Glentoran v. Linfield
Tuesday, 4 September
Ballinamallard United v. Glentoran
Cliftonville v. Ballymena United
Donegal Celtic v. Coleraine
Glenavon v. Portadown
Linfield v. Crusaders
Lisburn Distillery v. Dungannon Swifts
Saturday, 8 September
Ballymena United v. Donegal Celtic
Cliftonville v. Ballinamallard United
Coleraine v. Lisburn Distillery
Dungannon Swifts v. Glentoran
Glenavon v. Crusaders
Portadown v. Linfield
Saturday, 15 September
Ballinamallard United v. Portadown
Ballymena United v. Dungannon Swifts
Crusaders v. Donegal Celtic
Glentoran v. Coleraine
Linfield v. Cliftonville
Lisburn Distillery v. Glenavon
Saturday, 22 September
Cliftonville v. Portadown
Coleraine v. Ballymena United
Donegal Celtic v. Ballinamallard United
Dungannon Swifts v. Crusaders
Glenavon v. Linfield
Glentoran v. Lisburn Distillery
Saturday, 29 September
Ballinamallard United v. Glenavon
Ballymena United v. Glentoran
Cliftonville v. Donegal Celtic
Coleraine v. Dungannon Swifts
Linfield v. Lisburn Distillery
Portadown v. Crusaders
Saturday, 6 October
Crusaders v. Glentoran
Donegal Celtic v. Dungannon Swifts
Glenavon v. Coleraine
Linfield v. Ballinamallard United
Lisburn Distillery v. Cliftonville
Portadown v. Ballymena United
Saturday, 13 October
Ballinamallard United v. Coleraine
Ballymena United v. Glenavon
Crusaders v. Cliftonville
Donegal Celtic v. Lisburn Distillery
Dungannon Swifts v. Linfield
Glentoran v. Portadown
Saturday, 20 October
Ballinamallard United v. Crusaders
Cliftonville v. Dungannon Swifts
Coleraine v. Linfield
Glentoran v. Glenavon
Lisburn Distillery v. Ballymena United
Portadown v. Donegal Celtic
Saturday, 27 October
Ballymena United v. Ballinamallard United
Crusaders v. Coleraine
Donegal Celtic v. Glentoran
Dungannon Swifts v. Lisburn Distillery
Glenavon v. Cliftonville
Linfield v. Portadown
Saturday, 3 November
Ballinamallard United v. Lisburn Distillery
Coleraine v. Portadown
Crusaders v. Glenavon
Donegal Celtic v. Linfield
Dungannon Swifts v. Ballymena United
Glentoran v. Cliftonville
Saturday, 10 November
Ballymena United v. Crusaders
Cliftonville v. Linfield
Glenavon v. Donegal Celtic
Glentoran v. Dungannon Swifts
Lisburn Distillery v. Coleraine
Portadown v. Ballinamallard United
Saturday, 17 November
Ballinamallard United v. Donegal Celtic
Ballymena United v. Cliftonville
Crusaders v. Portadown
Dungannon Swifts v. Coleraine
Linfield v. Glenavon
Lisburn Distillery v. Glentoran
Saturday, 24 November
Cliftonville v. Lisburn Distillery
Coleraine v. Glentoran
Donegal Celtic v. Crusaders
Glenavon v. Ballinamallard United
Linfield v. Ballymena United
Portadown v. Dungannon Swifts
Saturday, 1 December
Coleraine v. Glenavon
Crusaders v. Dungannon Swifts
Donegal Celtic v. Ballymena United
Glentoran v. Ballinamallard United
Lisburn Distillery v. Linfield
Portadown v. Cliftonville
Saturday, 8 December
Ballinamallard United v. Linfield
Ballymena United v. Portadown
Cliftonville v. Coleraine
Dungannon Swifts v. Donegal Celtic
Glenavon v. Lisburn Distillery
Glentoran v. Crusaders
Saturday, 15 December
Ballinamallard United v. Cliftonville
Coleraine v. Donegal Celtic
Crusaders v. Lisburn Distillery
Glenavon v. Ballymena United
Linfield v. Dungannon Swifts
Portadown v. Glentoran
Saturday, 22 December
Coleraine v. Ballinamallard United
Crusaders v. Linfield
Donegal Celtic v. Cliftonville
Dungannon Swifts v. Glenavon
Glentoran v. Ballymena United
Lisburn Distillery v. Portadown
Wednesday, 26 December
Ballymena United v. Coleraine
Cliftonville v. Crusaders
Dungannon Swifts v. Ballinamallard United
Linfield v. Glentoran
Lisburn Distillery v. Donegal Celtic
Portadown v. Glenavon
Saturday, 29 December
Ballinamallard United v. Crusaders
Ballymena United v. Lisburn Distillery
Cliftonville v. Dungannon Swifts
Glenavon v. Linfield
Glentoran v. Donegal Celtic
Portadown v. Coleraine
Tuesday, 1 January, 2013
Coleraine v. Glentoran
Crusaders v. Portadown
Donegal Celtic v. Glenavon
Dungannon Swifts v. Ballymena United
Linfield v. Cliftonville
Lisburn Distillery v. Ballinamallard United
Saturday, 5 January
Ballymena United v. Ballinamallard United
Cliftonville v. Glentoran
Dungannon Swifts v. Lisburn Distillery
Glenavon v. Crusaders
Linfield v. Coleraine
Portadown v. Donegal Celtic
Saturday, 19 January
Ballinamallard United v. Glenavon
Coleraine v. Lisburn Distillery
Crusaders v. Ballymena United
Donegal Celtic v. Linfield
Glentoran v. Dungannon Swifts
Portadown v. Cliftonville
Saturday, 26 January
Ballinamallard United v. Portadown
Ballymena United v. Donegal Celtic
Cliftonville v. Coleraine
Dungannon Swifts v. Linfield
Glentoran v. Glenavon
Lisburn Distillery v. Crusaders
Saturday, 2 February
Cliftonville v. Lisburn Distillery
Coleraine v. Ballinamallard United
Donegal Celtic v. Crusaders
Glenavon v. Dungannon Swifts
Linfield v. Ballymena United
Portadown v. Glentoran
Saturday, 16 February
Ballymena United v. Coleraine
Crusaders v. Cliftonville
Donegal Celtic v. Ballinamallard United
Dungannon Swifts v. Portadown
Glentoran v. Linfield
Lisburn Distillery v. Glenavon
Saturday, 23 February
Ballinamallard United v. Cliftonville
Coleraine v. Donegal Celtic
Crusaders v. Dungannon Swifts
Glenavon v. Ballymena United
Linfield v. Portadown
Lisburn Distillery v. Glentoran
Saturday, 9 March
Ballinamallard United v. Dungannon Swifts
Ballymena United v. Glentoran
Cliftonville v. Donegal Celtic
Coleraine v. Crusaders
Linfield v. Lisburn Distillery
Portadown v. Glenavon
Saturday, 16 March
Crusaders v. Linfield
Donegal Celtic v. Lisburn Distillery
Dungannon Swifts v. Coleraine
Glenavon v. Cliftonville
Glentoran v. Ballinamallard United
Portadown v. Ballymena United
Saturday, 23 March
Ballinamallard United v. Linfield
Cliftonville v. Ballymena United
Dungannon Swifts v. Donegal Celtic
Glenavon v. Coleraine
Glentoran v. Crusaders
Lisburn Distillery v. Portadown
Post-split fixture dates
Saturday, 30 March
Tuesday, 2 April
Saturday, 13 April
Saturday, 20 April
Saturday, 27 April