Portsmouth boss Michael Appleton hopeful of player exits
Last updated on .From the section Football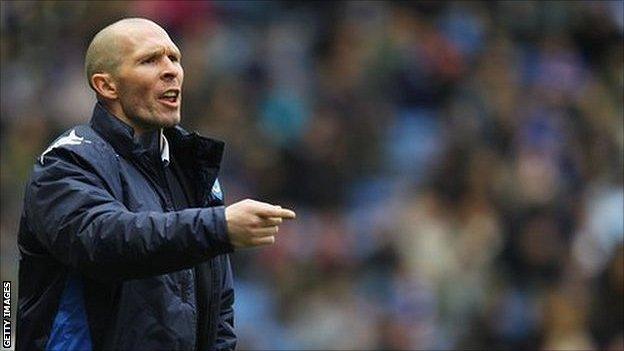 Portsmouth manager Michael Appleton says he hopes the financially-stricken club can sell three players before the start of the season.
Pompey are in administration and in danger of being liquidated unless they can drastically reduce their wage bill.
On Monday, creditors of the club will vote on whether or not to accept Balram Chainrai's Company Voluntary Agreement.
"If we can get three players out by the start of pre-season that will be very helpful," Appleton told BBC Solent.
Chainrai is offering creditors two pence in the pound, but the Pompey Supporters Trust say they are still hopeful of launching a rival bid on Monday, although time is running out.
However, for that to happen they say the creditors - who are potentially owed in the region of £24m - will have to compromise on that figure.
"I am realistic about the position we are in at PST and we are cautiously optimistic of presenting a rival bid," lawyer Anthony Fanshawe told BBC Sport.
"But that is subject to one or two things falling into place such as dealing with the football creditors appropriately so that we can still be successful."
Appleton said he just wants the issue resolved one way or the other so he can get on with planning for the League One season.
And he admitted the scenario of starting the season with players who could leave by the end of the transfer window in August is not ideal.
"Hopefully the CVA will get approved. Then there will be a period of time when Balram Chainrai takes the club over.
"In that period of time I'm not sure how many players, if any, I'll be allowed to bring into the football club.
"I would imagine it would be a difficult period of six weeks until the season starts," said Appleton.
"From a motivational point of view it is a lot easier to get your squad together at the start of July and work with them from then.
"You can get them ready, gel during pre-season, work on the dynamics of the squad, get them to play how you want. I am not going to be lucky enough to do all those things."
Appleton is not surprised players are staying put for the time being but expects there to be movement in the next six weeks.
"I'm hoping once we enter into July certain players will move on and do their bit. I'm sure that will be the case. It is still early days.
"We have to play a waiting game. First and foremost we need a new owner in place but realistically for that to happen we need certain players to leave the building," he added.