Euro 2012: Rio Ferdinand & Vincent Kompany criticise Uefa
Last updated on .From the section Euro 2012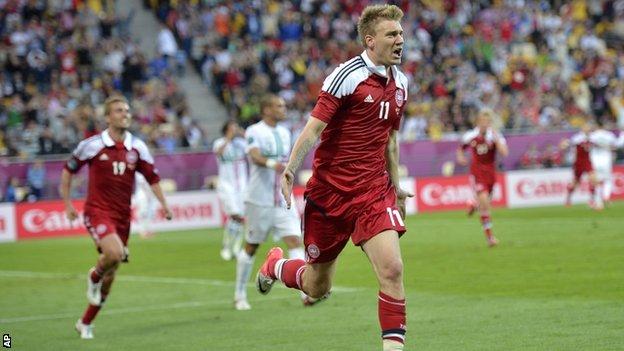 Rio Ferdinand and Vincent Kompany have criticised Uefa after Croatia's fans were fined £64,561 fine for racism.
Manchester City captain Kompany called on Uefa to "review their priorities", while Ferdinand tweeted: "Uefa are you for real? £80,000 fine for Bendtner. All of the racism fines together don't even add up to that?!"
The Manchester United defender, who was controversially omitted from England's Euro 2012 squad, also hit out at Uefa president Michel Platini.
"Uefa are not serious," he said. "Platini was a great player but him and his colleagues alienate themselves with exactly this type of rubbish."
Kompany agreed, tweeting: "Uefa might need to review their order of priorities, don't you think?
"Surely if you were a sponsor, you would consider racism as a more dangerous association than the damage caused by commercial opportunism?"
Alleged racist chanting in the Spain-Italy and Russia-Czech Republic games is also subject to investigation.
Germany's football federation has been charged over the "improper conduct" of fans after observers from anti-discrimination group Fare reported seeing a neo-Nazi banner in the Germany section in the 1-0 win over Denmark.
A Uefa spokesman said: "It is up to the disciplinary committee to decide on the sanctions (in each individual case) and the written reasons (for Bendtner's punishment) are being sent to the Danish FA."
Before the tournament, Platini rejected suggestions that Euro 2012 would be overshadowed by instances of racism.
A BBC Panorama programme suggested racism would be a problem, highlighting incidents at grounds in Poland and Ukraine.