Rangers: Walter Smith group drops bid for club
Last updated on .From the section Football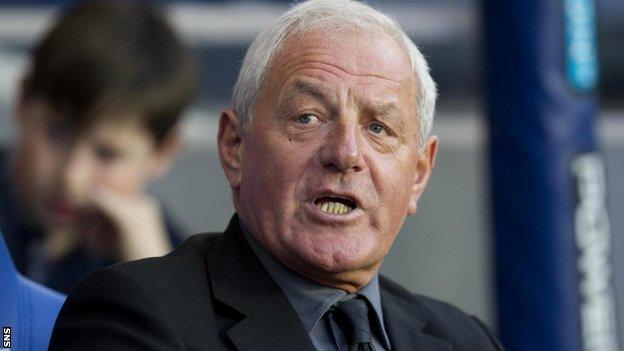 The consortium led by former manager Walter Smith has withdrawn its offer to take over the 'newco' Rangers.
But the group are stepping back after talks with Green.
"We very much hope the verbal assurances they provided to us - and the public statements made - are adhered to," said Smith.
Green was quick to invite Smith and his backers on board, offering to take the 64-year-old on as chairman of the football club.
However, Smith and his associates have declined to combine forces with Green's consortium.
"I would like to clarify the background to the offer of £6m for the assets of the club which I announced on Thursday," read a statement from Smith.
"The offer was made to the administrators before the Charles Green consortium had concluded their transaction to acquire the assets.
"We felt it necessary to have a fall-back position to secure the club's future. We have since made the same offer of £6m to the Green consortium through Zeus Capital.
"Our offer has been rejected and they have made a counter-offer inviting us to join their consortium.
"However, the current business plan is not in accord with our understanding of the present circumstances of the club and the way forward, but we would prefer to leave them to proceed in their own way and we wish them good luck in their endeavours.
"Members of our consortium had met with Charles Green and Zeus Capital prior to the CVA (company voluntary agreement) meeting and it had been agreed that we would be provided with significant information which would give us comfort as to the identity of the consortium members, their strategy and their funding capacity.
"This information had not been forthcoming by the date of our offer.
"We are therefore withdrawing completely from the process to enable Charles Green and his consortium to move forward.
"We very much hope the verbal assurances they provided to us - and the public statements made - are adhered to and that the club will therefore be financed and managed with appropriate governance and can go forward in a sustainable manner.
"We wish the new Rangers Football Club every good fortune."
Smith won 21 trophies over two spells as manager of Rangers but the club, who went into administration in February, are heading for liquidation, prompting Green's purchase of the assets.
Malcolm Murray, appointed to be chairman of the new Rangers company by Green, released a statement later on Tuesday saying: ""Since the announcement last week by the Walter Smith consortium, our position as a Board has been clear in that we would welcome constructive dialogue with all those involved.
"The Green consortium said last Thursday evening that it was not looking for a sale and that is the view of the investors.
"We can however say to supporters that the assurances the Walter Smith consortium are looking for regarding financial probity and high standards of corporate governance will be met."