South Africa's worries over filling Nations Cup venues
By Mohammed Allie
BBC News, Cape Town
Last updated on .From the section Football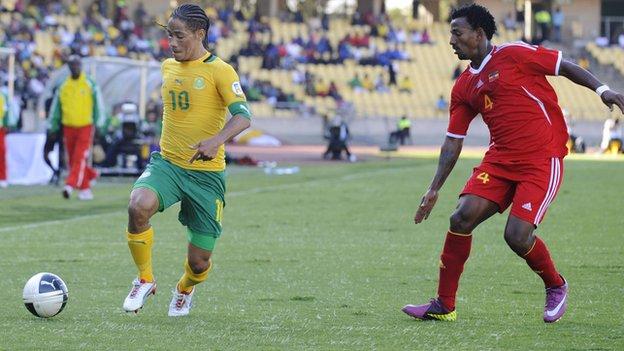 Judging by the poor turnouts for South Africa's last two home matches it is clear that the hosts of next year's Africa Cup of Nations have a massive job on their hands to fill up large stadiums for the tournament.
The correlation between Bafana's poor form and the low turn-out of fans highlights the importance of the hosts doing well at the tournament.
Crowds for club matches and internationals at the 42,000-seat Royal Bafokeng Stadium in Rustenburg, one of the four Nations Cup venues, have generally been poor.
So when Ethiopian immigrants not only matched their South African counterparts in terms of numbers but were much more vociferous in their support for Walyas, it came as no surprise.
Such was the atmosphere generated by the Ethiopians that a stranger could easily have thought he was in Addis Ababa.
Attendances at another Nations Cup venue, the Mbombela Stadium in Nelspruit, which hosted the Gabon game, have been markedly better probably because fans in the area are starved of top-class football due to the absence of a locally-based team in the national premier league.
When big matches are allocated to the wildlife-themed venue, which has a capacity of 41,000, it is normally filled almost to capacity, although the small turn-out for the friendly against Gabon bucked the trend.
This was probably due to Bafana's poor run of form which saw them enter the game having failed to win any of the previous eight games, including successive 1-1 draws against Ethiopia and Botswana on the previous two weekends.
Even when South Africa last hosted the tournament in 1996, which they went on to win, their maiden appearance did nothing to attract fans to the venues in Durban, Bloemfontein and Port Elizabeth.
Attendances at the huge stadium were nothing short of embarrassing, more so given that African legends like George Weah, Abedi Pele, Tony Yeboah, Kalusha Bwalya and Hany Ramzy were all in action at the respective venues.
Since the end of Apartheid in 1994, many immigrants from the African continent have settled here so should the likes of Nigeria, Ghana, the DR Congo, Zimbabwe and some of the north African countries qualify there is no doubt that they will attract a strong following of expatriates.
However, the challenge will still remain to attract locals to the games.
Having the likes of Europe-based stars like Papiss Demba Cisse, Demba Ba, Samuel Eto'o, the Toure brothers, John Obi Mikel and others will be a great marketing tool since many South Africans follow the European game, often more passionately than they do the local game.
Attracting fans to games at recent Nations Cup tournaments has given local organisers headaches and the South African organisers know they have huge hurdles to overcome if they are to break the mould.