Jack Boyle named Jersey Premiership player of the year
Last updated on .From the section Football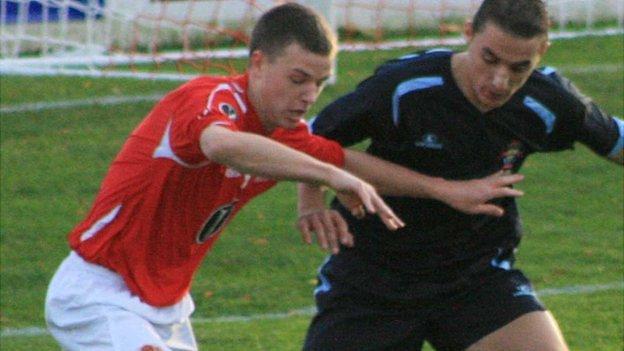 Former Southampton midfielder Jack Boyle has been named Jersey's Premiership player of the year.
Boyle, who helped Jersey Scottish to the title, was the division's top scorer with 15 goals.
He was handed the award at a ceremony on Tuesday night, beating off the challenge of fellow nominees Adam Pepper (Trinity) and goalkeeper Craig Fletcher (Jersey Scottish).
"It's good to win ahead of two great players," Boyle told BBC Radio Jersey.
"I thought 'Fletch' would have won it, I thought he had a great season for us in goal.
"Although Trinity got relegated, Adam is a class act and who knows who he'll go on to play for.
"I'm just made up that I won it, it's nice to win the trophy."
Jersey Football Combination Awards 2011-12
Premiership
Winner - Jack Boyle (Jersey Scottish)
Also nominated: Craig Fletcher (Jersey Scottish) and Adam Pepper (Trinity)
Championship
Winner - Kyle Hampshire (St Brelade)
Also nominated: Pascal Corcoran (St Martin/SCF) and Jason Watts (St Lawrence)
Ladies
Winner - Tara Marie (St John)
Also nominated: Marta Ascencao (St Paul's) and Louise Van der Vliet (First Tower United)
Referee
Winner - Steve Rowland
Also nominated: Gareth Bayley and Toni Cardoso
Jersey Football Referees Association - Sportsmanship Award
Shaun Heslop (St Ouen) - For stopping play for an injured opponent when his team had broken clear with nine minutes left to play with the match level at 3-3.