Welsh Premier League: Rhys Griffiths returns to Port Talbot
Last updated on .From the section Football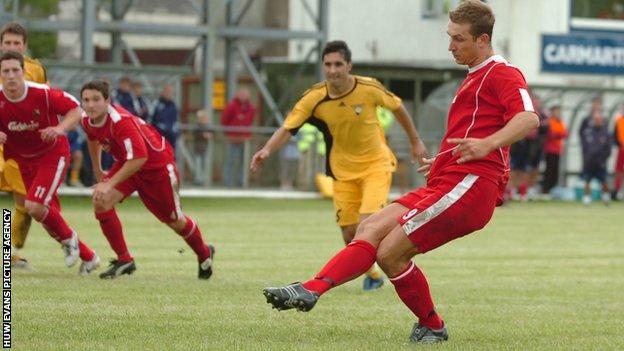 Rhys Griffiths has left Llanelli after six years and has returned to rival Welsh Premier League side Port Talbot.
Griffiths, the seven-times winner of the league's Golden Boot award, has returned to the club he left for Llanelli back in 2006.
The 32-year-old striker, who was the Llanelli captain, has become a legend of the Welsh Premier League with his goalscoring prowess.
"I haven't given up on winning club titles," said Griffiths.
"I am obviously going to be going for an eighth Golden Boot but it's not as important to me as getting Port Talbot into Europe or winning the Welsh Cup."
Griffiths admits he is returning to a Port Talbot side which is unrecognisable from the one he left and is ambitious for success.
"The fact they have signed me is indicative of the direction they are going in," said Griffiths.
"They are going to push now to be more professional than they were. Time will tell how it changes, but I am hoping they are going to be a lot more professional."
Griffiths was linked with a possible transfer to Wrexham in December 2006, but he chose to remain semi-pro at Llanelli.
And Wales assistant coach Osian Roberts said on Twitter he knew of two League Two clubs who wanted to sign the striker this summer.