Euro 2012: Ukraine media fume with officials
Last updated on .From the section Euro 2012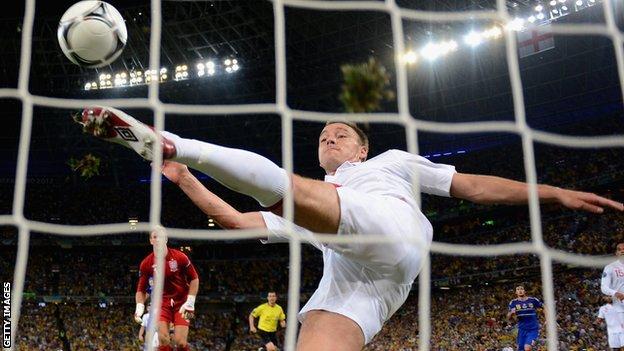 The Ukrainian media have been highly critical of match officials for not recognising that Marko Devic's shot had crossed the line in the 1-0 defeat by England that ended their Euro 2012 dreams.
"The referees stole Devic's goal and Ukraine's chances to beat England," says the headline on the Ukrainian sports website sport.ua. "Ukraine has had no privileges at this championship.
"It had no weak group, like Poland, or at least fair referees. The definition 'hosts are favoured' cannot be used in this case. We were hindered rather than helped. Where are chips in balls, where are video replays or the hawk eye system?" the website asked.
"The Ukrainian team has failed with a scandal to progress to the next stage at Euro 2012 held at home. Still, part of the fans appreciate their team for its nervous and cumbersome match against England, while coach Blokhin sang praises to his players.
"In their match with the founders of football, Ukrainians showed dignity which was enough to avoid mockery and whistles by fans at the unfortunate Donbass Arena," the Levy Bereg website said.
"We are not ashamed of the defeat," the popular Korrespondent.net website quoted the Ukrainian team defender Yevhen Khacheridi as saying. "I do not think it will take us long to recover after this defeat because we are not ashamed. We did what we could. Overall, I think we played well. We will try to settle scores with England in the qualifiers for World Cup 2014."
Many comments in Ukraine's conventional and social media focused on the referee's decision not to award Ukraine a goal.
"You are blind, right," said a front-page headline in the popular daily Segodnya. "We have lost. Referee Kassai failed to see Devic's goal for Ukraine.. So the question is: why do we need all those additional referees next to the goal? Well done Uefa."
The mood was shared by Ukrainian Twitter and Facebook users.
"Do not look for fairness in football. I cannot recall who said this, but these words are in my head all the time," tweeted Ukrainian Foreign Minister Kostyantyn Hryshchenko. "We played better. I have no claims against our team. Clearly, it has a future. As for the referee... What do fans normally demand in such cases?"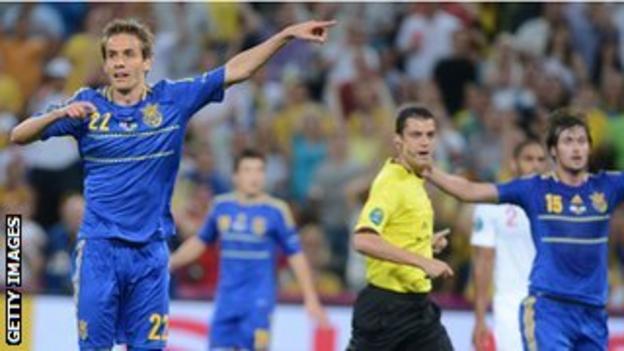 "Well, they played well. Devic scored. Blokhin spent a whole tournament in the national team colours. Donetsk, I hope, will feel more like Ukraine," Ukrainian MP Vyacheslav Kyrylenko tweeted.
"Five referees work at each Euro 2012 match, one in the field, two linesmen and two next to the goal. How many more of them does it take to see goals scored," said user Andrey Lenitskiy.
Meanwhile, Facebook users shared a cartoon featuring the zigzag-shaped line of England's goal. A goal line of that shape could be the only excuse to disallow a goal for Ukraine, users ironised.
"Well... England know this feeling as they also had a goal denied in the world cup against Germany!" Pedro Dos Santos recalled.
BBC Monitoringselects and translates news from radio, television, press, news agencies and the internet from 150 countries in more than 70 languages. It is based in Caversham, UK, and has several bureaux abroad. For more reports from BBC Monitoring,click here