Euro 2012: Daniele De Rossi excited by Steven Gerrard clash
Last updated on .From the section Euro 2012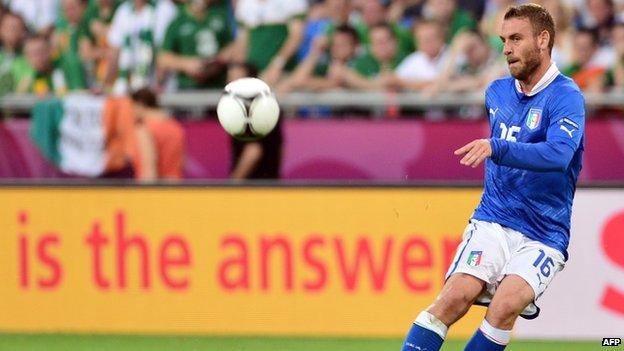 Italy midfielder Daniele De Rossi says he is relishing his clash with "idol" Steven Gerrard when they face England on Sunday.
The Roma midfielder, who will line up against Gerrard in the Euro 2012 quarter-final, has not been surprised by England's impact in the tournament.
"It's not like we're discovering England now," he said.
"Gerrard has always been my idol and he's a player who's been at the top level of the game for 10 years."
He continued: "You see Gerrard defending and attacking. I would like to be able to play more like that.
"But they've also got many interesting young players, especially on the wings.
"And (England coach Roy) Hodgson has experience in Italy, so they know how to defend, too."
De Rossi is set to win his 76th international cap in the Kiev quarter-final.
After eight years in the Italy team, who won the World Cup in 2006, De Rossi is full of anticipation for his first meeting with England.
He added: "When I think about, I've never really made an impact against an English squad.
"But I've never faced England's national team - not even at the junior level.
"It's an honour to play against such a great squad. I've played in a lot of matches with the national team, so this gives me a new reason to get excited."
De Rossi is also sure that Manchester City striker Mario Balotelli can handle coming up against England.
Balotelli's two years in the Premier League have included a host of disciplinary issues but De Rossi is convinced the 21-year-old forward can cope with the pressure of the situation.
De Rossi said: "He's more used to this pressure than we are. They talk a lot about him because he's a really great player, he's young and he plays in England.
"I'm convinced he'll play this match without any problems."
Italy midfielder Alessandro Diamanti, who spent the 2009-10 season at West Ham, is looking forward to facing his old Upton Park team-mate Scott Parker.
Diamanti, 29, made his international debut in Monday's 2-0 victory over the Republic of Ireland.
The Bologna man admits he never believed he would have a chance to be involved in a game of the importance of Sunday's clash.
He said: "I would really like to face and beat Parker. He is a top player, a great rival, but since I left (West Ham), I haven't spoken to him.
"Now I have a chance to play in a game that only a couple of years ago I could only dream of playing on the PlayStation.
"It's going to be a big battle, we respect them but we have no fear."