Euro 2012: FA hit with Uefa fine over attempted pitch invasion
Last updated on .From the section Euro 2012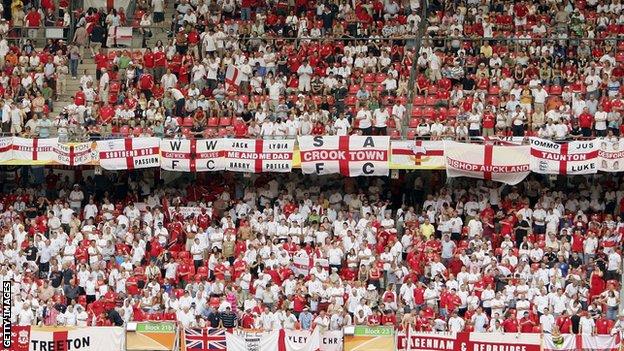 The Football Association has been fined 5,000 euros (£4,000) by Uefa for the "inappropriate conduct" of England fans in Friday's Euro 2012 win over Sweden.
The fine was for the attempted pitch invasion by supporters during the 3-2 Group D victory in Kiev.
The FA has decided not to contest the fine, maintaining the relatively small amount reflects Uefa's belief the incident was not serious.
"We accept the sanction and consider the matter closed," a statement read.
After England's second and third goals, from Theo Walcott and Danny Welbeck, between 20 and 30 fans surged forward towards the barriers but no-one got further than the outside of the Olympic Stadium's running track.
The FA had presented video evidence and strong mitigating circumstances in their defence at a Uefa hearing, including that the potential "invasion" during the comeback win was nothing more than exuberance rather than a deliberate plan by some supporters to get onto the pitch.
The incident was so minor the Uefa match delegate is not thought to have even mentioned it in his report of the game.
The FA has also confirmed that there have not been any arrests of England fans in Poland or Ukraine this summer.