Michael Laudrup attracted by Swansea City philosophy
Last updated on .From the section Football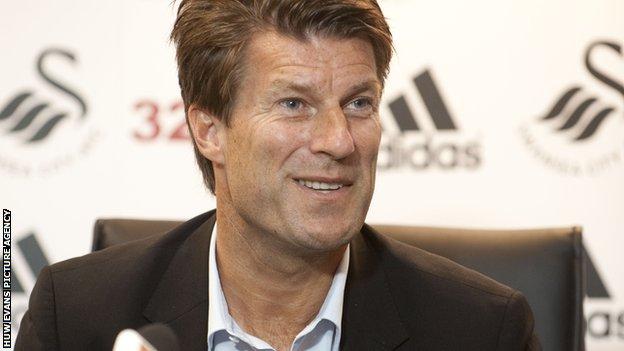 Michael Laudrup says Swansea City's philosophy matches his own after he was officially unveiled as the club's new manager.
The former Real Madrid, Barcelona and Denmark player succeeds new Liverpool manager Brendan Rodgers.
Laudrup, who has previous managerial experience at Brondby, Getafe, Spartak Moscow and Real Mallorca, is Swansea's third manager in the past four years.
"It will be a huge challenge for me but also a great experience," said Laudrup.
"When I heard about the interest I had a lot of digging to see what kind of football Swansea play and what do they want to do.
"I saw that they try to have the philosophy that the chairman [Huw Jenkins] is talking about which I think is going along with how I see football.
"That's one of the main reasons why I'm here because I think that's very important.
"It's the club, always the club, that points out the philosophy and then you have to pick the manager. But the manager also goes along with the way things are done."
Laudrup admits he knew very little about Swansea City and said he had to research the club before accepting the offer to succeed new Liverpool manager Rodgers.
"I didn't know so much [about Swansea] to be honest," added Laudrup.
"I think the research is very important. If I had done some more research in former jobs I might have taken some other decisions
"The people I talked to were very positive [about Swansea]. People said 'Michael it would be a good club for you."
Erik Larsen, Laudrup's assistant at Real Mallorca, is set to join him at the Liberty Stadium.
But the former Denmark international revealed he did not intend to make wholesale changes to the backroom staff at the Liberty Stadium or bring in a host of new players.
"I would like a new beginning, to come in and see how things are here. Change for change's sake, I don't think that is good," added Laudrup.
Laudrup's style is in keeping with the playing philosophy that Swans chairman Huw Jenkins is keen to retain.
Swansea, who finished 11th in their debut Premier League season, have been without a manager since Rodgers accepted the Liverpool vacancy in May.
Jenkins said Laudrup has a "clear picture" of the club's needs and aspirations as they aim to build on last season's success.
"There is no doubt about his standing as one of the game's greatest footballers, but we also see the qualities he has as a manager," said Jenkins.
"I'm confident that Michael will prove a fantastic acquisition that will help keep this football club moving forward.''