Cheltenham hope Luke Summerfield will stay with club
Last updated on .From the section Football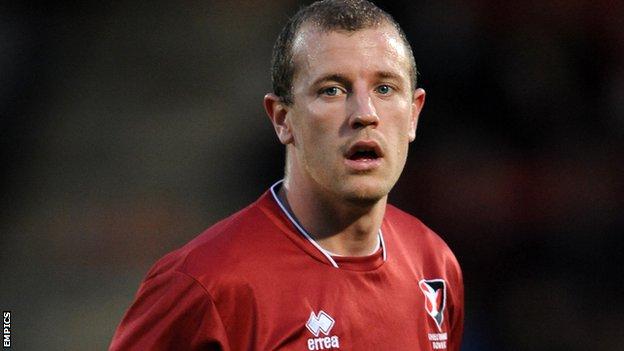 Cheltenham manager Mark Yates remains hopeful that Luke Summerfield will stay at the club, despite the midfielder's reluctance to sign a new deal.
He has been offered new terms by the Robins but has also been courted by Shrewsbury Town, where his father Kevin previously worked as assistant manager.
But Yates told BBC Gloucestershire: "He's not dismissed us."
He continued: "At the moment Luke is exercising his rights to see what's out there.
"He wants to play at the highest level he can and I understand that.
"We're still in with a shout. Hopefully we can agree something and he thinks Cheltenham is a suitable place to play."
Summerfield found himself without a club last summer after being released by Plymouth, where he started his career.
Since joining Cheltenham he has become an integral part of their midfield - starting 37 of his 41 League Two appearances - and helped them reach the play-off final, which they lost to Crewe.
He has since expressed his desire to play at a higher level, and Yates admits: "If we would have gone up I think it would have been sorted by now. But we haven't and he's got a decision to make.
"He was brilliant for us last season. We've offered him a deal which we think is decent but I don't think that's a deciding factor.
"It's not about money, it's a footballing decision."
Meanwhile, Yates has had no contact with Anthony Straker, despite the Aldershot defender being heavily linked with a move to Cheltenham.
The club are in the market for a new left-back for next season with Danny Andrew available on a free transfer, and Luke Garbutt having gone back to parent club Everton.
"I haven't spoken to Anthony or any of his advisors," Yates revealed.
"He's a player that's decent but he's not one I've spoken to at the moment. Whether that changes or not remains to be seen."