Terry Venables' Wembley FC recruit former stars for FA Cup
Last updated on .From the section Football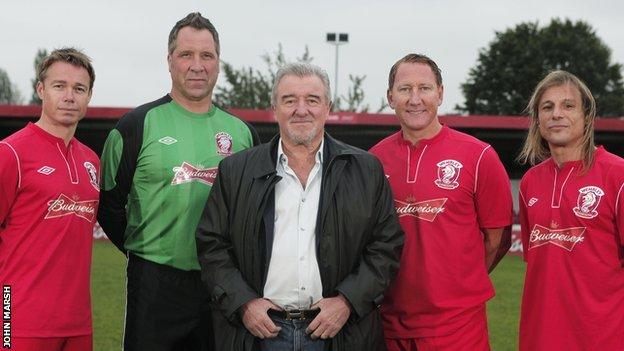 Non-league Wembley FC have recruited former internationals Ray Parlour, Martin Keown, Graeme Le Saux, Claudio Caniggia and Brian McBride to play in their FA Cup campaign this season.
The north London side have hired David Seaman as goalkeeping coach and former England boss Terry Venables as technical advisor.
Parlour, 39, said: "I've always believed grassroots football is essential to the lifeblood of the game.
"So I jumped at the chance."
All five players have come out of retirement to play for Wembley FC, who are in the ninth tier of English football. The club have agreed a sponsorship deal with Budweiser, which is in the first of a three-year deal as sponsor of the FA Cup.
"Basically the idea is to get Wembley FC to Wembley Stadium, which you can see from here, by winning the cup," said Venables.
The trials and tribulations of the club will be filmed as part of a TV documentary.
Goalkeeper David Seaman, midfielder Ray Parlour, and defender Martin Keown all played for more than a decade with Arsenal, making 405, 339 and 311 appearances respectively.
The trio won the league title on three occasions and Seaman and Parlour both won four FA Cups and a League Cup, while Keown won a hat-trick of FA Cups.
"These guys do it for the love of football," added Seaman.
"It means so much for them and this opportunity is fantastic. It gives them the chance to see what it's like as a footballer, the training they do and the coaching they get and they've got Terry Venables as their manager - doesn't get much better than that."
Former Blackburn and Chelsea left-back Le Saux won a Premier League winner's medal with Rovers in 1995 and the FA Cup and League Cup while at Stamford Bridge.
Former Argentina striker Caniggia played for 10 different clubs, including spells at Dundee and Glasgow Rangers towards the end of his career.
McBride has already worked for an England manager, having captained Fulham under Roy Hodgson. The American striker scored 40 goals in 150 appearances for the Cottagers. He also played for Preston and Everton.
Wembley FC manager Ian Bates said: "A year ago we were playing in front of an empty grandstand and the clubhouse was falling down. Now the investment means great times are waiting for Wembley FC and we can't wait to kick off our FA Cup campaign."
Despite Budweiser sponsoring both the Cup and Wembley FC, the FA is comfortable with the company's involvement because the two arrangements are separate sponsorship deals and no rules have been broken regarding a conflict of interest.