Torquay expect Mark Ellis contract decision in a week
By Brent Pilnick
BBC Sport at Plainmoor
Last updated on .From the section Football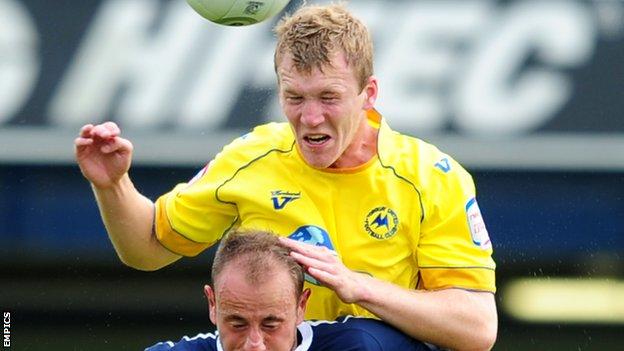 Torquay United manager Martin Ling expects to find out within a week whether centre-back Mark Ellis will sign a new contract at the club.
The 23-year-old former Bolton defender was originally given until Thursday to make a decision on his future.
But Ellis is also in discussions with a League One club, believed to be Crewe.
"Mark has said the club that's interested in him, he is interested in, so I've said give it another week and see how it pans out," Ling said.
"If, in a week's time, this club chasing Mark hasn't met our criteria, Mark will stay here.
"If they do meet the criteria Mark's got a choice, does he want to go there or does he want to stay here?" Ling added to BBC Sport.
As Ellis is under 24 years old, Torquay will be entitled to a fee if the defender moves to another club.
But Ling, who met Ellis for talks on Wednesday, says a move away from Plainmoor for the Plymouth-born defender, is by no means certain.
"Mark has never said that he doesn't want to stay at Torquay United - and Mark didn't say to me yesterday that he doesn't want to stay at Torquay United," Ling added.
"We've not had a club that has met our valuation of Mark Ellis at this time.
"That club has go two options, one is to meet our valuation, the other is to take us to a tribunal."