South West teams barred from FA Vase due to new ground rules
Last updated on .From the section Football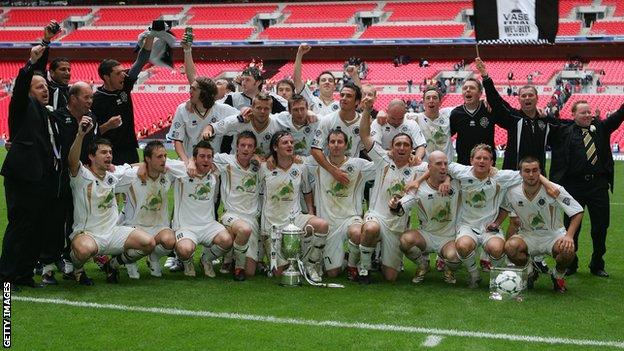 Eleven football teams in Devon and Cornwall have been barred from playing in the FA Vase over new rules covering the standards of their grounds.
But the clubs say they were not given time to improve their facilities before the new regulations came in.
"I'm disappointed rather than angry," Newquay AFC boss Glynn Hooper told BBC Radio Cornwall.
"The information that the club got from officials in our league was that we'd get 12 months grace."
He added: "I think that's come from head office at the FA."
Newquay have been barred because they did not have toilets in each of the home, away and referee changing rooms, something which had to be done by 31 March.
The club have since started the work which could cost as much as £12,000.
Brian Howard, manager of Devon-based Ivybridge Town, said his club lost its first place in the Vase because the dug-outs and toilets were incorrect.
"We're totally appalled. We spent the last 18 months spending £150,000 bringing it up to standard so we could enter the FA Vase and we're told that we don't comply.
"We're very disappointed and you wonder is it worth putting all this time and effort into it. The FA's not supporting the clubs at the grass roots level," he said.
The FA responded with a brief statement to the BBC.
It read: "Newquay AFC's application was not accepted for next season's FA Vase as their ground did not conform to the minimum requirements for the 'H' grade of The FA National Ground Grading as at 31 March 2012."
But Hooper says the FA have got their priorities wrong.
"There's all this technology like goal-line technology at the top of the game because of the amount of money in football.
"But at grass roots, where it starts, clubs are really struggling to survive.
"For players its extremely important to get away from your league programme and playing the same sides week-in week-out.
"It's a chance to better yourself further afield if you get through the early rounds.
"It's also an opportunity to play at Wembley, like Truro did a few years ago, and for our supporters it's an away day.