Motherwell fans' views sought on SPL Rangers newco vote
Last updated on .From the section Football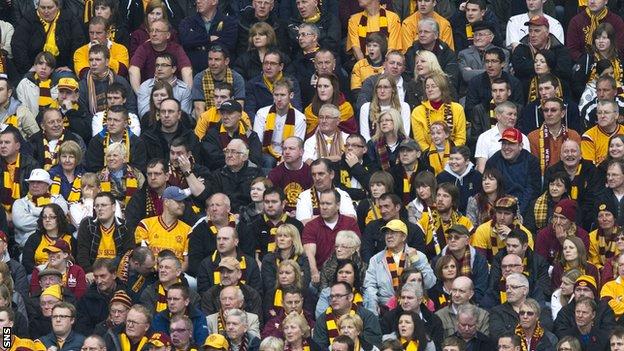 Motherwell fans have been asked to vote on whether the club should support or oppose a "newco" Rangers being allowed into the top flight.
Scottish Premier League clubs will decide in two weeks whether Charles Green's new company can replace the old club, which is heading for liquidation.
Motherwell said the decision would be difficult because of the "complexity of the potential scenarios".
Fans can cast their vote until 29 June, the club added.
Motherwell say the result of the supporters' ballot will be "used to determine which way the club votes".
Supporters of SPL clubs have expressed a desire to see Rangers' application rejected on grounds of sporting integrity, but club chairmen may also be influenced by the potential financial implications of the Ibrox side's absence from the top division.
Motherwell said the situation at Ibrox was worrying for Scottish football.
"At a time we should be enjoying the club's success on the park and development off it, we face a grave threat to the viability of our sport and our club through no fault of our own," read a statement.
"It is our view that in the face of this we will be best placed if we live by the spirit of the model we are seeking to achieve.
"We believe it's mission critical that we both listen, and are seen to have listened, to the views of our members and shareholders on whom our club relies now and for the future. Under all scenarios we need to come together as a club to see this situation through.
"We will therefore hold a ballot of adult 'Well Society members and the small number of existing minority shareholders who have yet to join the society, on a "one member/shareholder-one vote" basis.
"The results of the ballot will be independently audited and will be used to determine which way the club votes on 4th July."
Meanwhile, Hearts plan to vote against Rangers being allowed into the SPL when clubs vote next month.
Tynecastle owner Vladimir Romanov released a statement saying the "football mafia represented by Rangers' former owners..." should not be allowed back in under any circumstances.