Euro 2012: Owen Hargreaves has faith in England to progress
Last updated on .From the section Euro 2012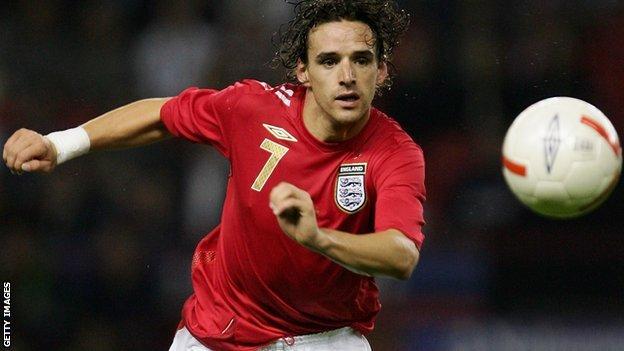 Owen Hargreaves, a veteran of three major tournaments, believes Roy Hodgson's England have the spirit and togetherness to succeed at Euro 2012.
England face Italy in the last eight after topping Group D ahead of France.
"The 2004 and 2006 teams were stronger individually but if these guys can play as a group and maximise, then there is potential," he told BBC World Service.
"It is about playing well as a team and working together. They look like they are doing that right now."
England lost to Portugal on penalties in the quarter-finals at both the 2004 European Championship and in the 2006 World Cup, but neither defeat was without controversy.
In 2004, Sol Campbell had a 90th-minute header ruled out with the scores at 1-1 and Sven-Goran Eriksson's side were then beaten 6-5 on penalties after the game finished 2-2 after extra-time.
Two years later, at the 2006 World Cup, the match ended 0-0 after 120 minutes but England played for large parts of the game with 10 men after Wayne Rooney was sent-off for a stamp on Ricardo Carvalho. Skipper David Beckham also limped out of the match early in the second half through injury.
After playing in two World Cups and a European Championship, and being named England's best player at the 2006 World Cup, former Manchester United and Manchester City midfielder Hargreaves feels the group of players he played alongside should have achieved more than they did.
"Getting to the quarter-final is not an achievement but people look at it as just reaching a quarter-final. You need to look at the fashion in which you went out," he insisted.
"In 2002 we lost 2-1 to a Brazil side, that went on to win it, in 35C heat. We are not better than Brazil in that heat so we are not going to win the game. In 2004 and 2006, we lost to Portugal on penalties both times when we could have reached the semi-finals.
"People focus too much on these things, the fact of the matter is that we were very close but just did not take that last step, when probably we should have with the quality of players we had available."
Hargreaves was released by champions Manchester City after making only four appearances last season and, while he believes he is fit enough to continue playing, he says he is willing to hang up his boots if he cannot find the right club.
"I have spoken to a lot of people after coming back into training, such as coaches, physios and doctors, and they have said I shouldn't [consider retiring]," said the 31-year-old.
"I have worked so hard to put myself in this position and you see how much the MLS [in the United States] has improved and that is an option. There are also options in Germany.
"If there is a right fit for me, with the right manager and players, then I will consider it, but if it is not then I can easily say it has been a pleasure, I would consider retirement."