Euro 2012: England's Italian connection
By James Horncastle
European football writer
Last updated on .From the section Euro 2012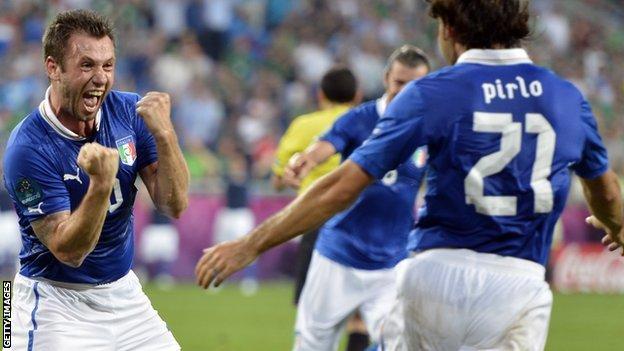 No-one perhaps did more to prove that England can be beaten by Italy than Fabio Capello. It was his goal at Wembley on November 14, 1973 that heralded the end of a nation's inferiority complex.
A famous 1-0 victory was Italy's first on English soil. Until then, they had never once triumphed on their visits to the home of football.
Even when Italy were World Cup holders in 1934, they travelled to England in awe of their hosts, who were still considered to be the best football team on the planet.
A valiant 3-2 defeat that year was mythologised back in Italy. Expected to lose heavily, they gave England a scare with a late comeback and were hailed the 'Lions of Highbury'.
Winning in England had become an obsession for them, not quite a holy grail, more an Everest to be conquered.
In this sense it might be said that Capello was Italian football's Sir Edmund Hillary and that his goal was arguably the peak of his playing career.
Once England had been surmounted, the Twin Towers scaled and an Italian flag placed atop of them, no place, no team instilled any fear in Italy. It was a watershed moment.
Since 1980, Italy have had something of a hold on England. At the European Championship that summer, a Marco Tardelli winner put them on the brink of their eventual elimination from the group stages.
In the nine meetings that followed, which includes overcoming England 2-1 thanks to Roberto Baggio and Toto Schillaci in the third place play-off at Italia `90, Italy have won five, drawn two and lost two.
Historically speaking the tables have definitively turned. As a record, it remains a source of confidence. But how much should be read into it?
The last meeting between Italy and England was a decade ago. Players have come and gone - only Gianluigi Buffon is still playing - so it should perhaps be taken with a pinch of salt.
A lot has changed during that time. The Premier League has risen with La Liga to become the dominant force that Serie A once was on the continent.
It would be wrong to suggest that a new inferiority complex developed at club level in Italy. AC Milan and Inter Milan have won the Champions League in the last five years.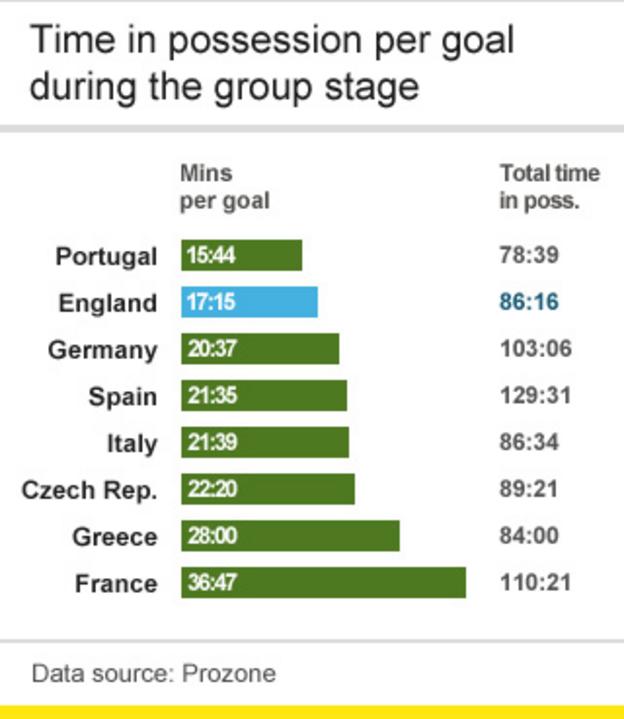 Still, a new generation of Italian players has grown up watching and admiring English football like never before and that should not be underestimated.
Further to expressing his opinion that "English football is fascinating, it has overtaken the Italian game," Daniele De Rossi told reporters on Wednesday that Steven Gerrard is "my idol".
His story is not uncommon. And yet much of English football's recent successes bear the unmistakable 'Made in Italy' trademark.
For three years in a row the FA Cup has been lifted by a different Italian manager and that's only just the beginning.
Carlo Ancelotti did the 'Double' at Chelsea in 2010. Roberto Mancini won the FA Cup at Manchester City in 2011 then the Premier League the following year while Roberto Di Matteo surprised many by guiding Chelsea to another FA Cup in 2012, but also the Champions League crown they coveted so much.
It is a point of immense pride in Italy. "They were the masters, now they take lessons from our coaches", was one of the headlines in La Gazzetta dello Sport this week.
What has really caught the eye of the Italian papers in general ahead of Sunday's quarter-final in Kiev is how this England side more closely resembles their own tradition than the Italy team itself.
Part of that is credited to the organisational legacy left by Capello, but there's a sense that it has his successor, Roy Hodgson, "Italianised by his experience at Inter", writes La Repubblica, who has imposed a defensive, counter-attacking 'Italianissimo' philosophy on England.
"Hodgson is an English Italian," ventured Mancini in La Gazzetta dello Sport. "He is intelligent, clever, experienced and cunning."
By contrast, Cesare Prandelli has been described as a "reformist", seeking to move Italy away from the catenaccio (defensive) stereotypes of old towards a more positive, attractive, possession-oriented style of play based around a midfield of creators, not destroyers.
Roles have been reversed. But for all their differences, England and Italy do share things in common.
Both entered Euro 2012 humble and hopeful rather than expectant. As the competition has progressed, so too has the enthusiasm of fans back home.
A quiet confidence has begun to exude from their respective camps. England were happy to avoid Spain. Likewise, Italy were pleased to evade France.
The logical conclusion to draw from that is to assume England and Italy fancy they can beat each other. An editorial in La Repubblica, for instance, was entitled: "Semi-final possible".