Euro 2012 day 14 analysis: Portugal much more than Ronaldo
Last updated on .From the section Euro 201251
Cristiano Ronaldo has already shown his undoubted quality at Euro 2012, but during Portugal's quarter-final victory over Czech Republic the team illustrated they have much more to offer than their solitary showman.
Their star forward again proved he was the "difference-maker", according to former Germany manager Jurgen Klinsmann, as the Real Madrid man scored the winner and peppered Petr Cech in the Czech goal.
Yet Ronaldo was backed up by some sterling performances among his team-mates, not least midfielder Joao Moutinho, who set up the goal and was the game's leading passer.
Although Portugal already have a talent who can win games on his own, there are now signs that the tournament's first semi-finalists have the support cast to allow their star to shine.
Portugal's performance in numbers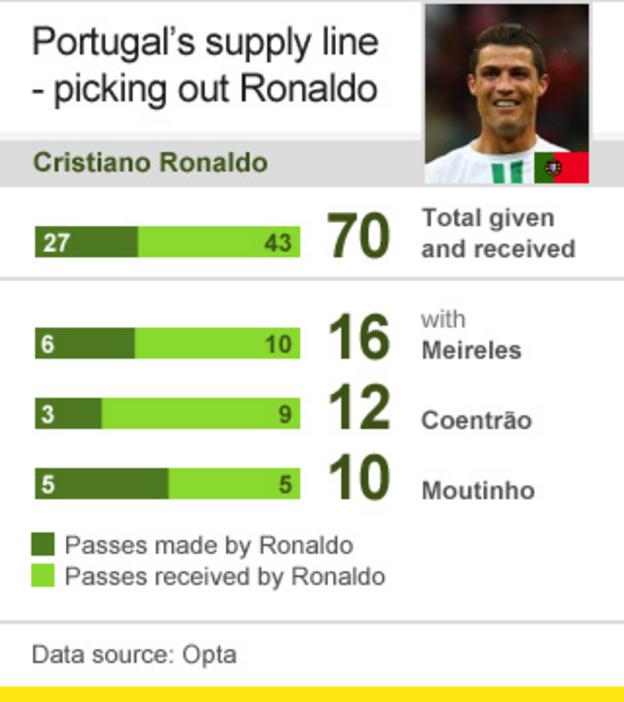 Cristiano Ronaldo has fired in a total of 29 shots, the most at a European Championship finals since 1980

Ronaldo has scored three goals at Euro 2012, and is leading goalscorer alongside Germany's Mario Gomez, Russia's Alan Dzagoev and Croatia's Mario Mandzukic

Ronaldo has now scored 66 goals for club and country this season and 35 for Portugal overall

Raul Meireles, Fabio Coentrao and Moutinho gave and received the most passes with Ronaldo

Portugal have now struck the woodwork five times, no team has hit it more at a European Championship finals, with four of those from Ronaldo

Portugal have been unchanged for all of their four Euro 2012 games

Czech Republic did not manage a shot on target, the first time this has happened for any team at Euro 2012
Jurgen Klinsmann on Match of the Day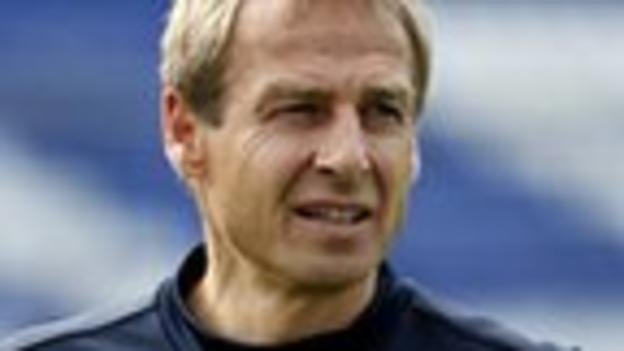 "The nice thing to see was that Ronaldo was a constant threat but also the players around him stepped it up. Pepe, Moutinho, Nani came into the game. They were far more effective after the break and I am pleased to see Portugal going through.
"Ronaldo is world-class, exceptional, and is in the top three in the world with players like Argentina's Lionel Messi and Spain's Xavi or Andres Iniesta. But now the interesting thing is whether his team-mates can pull themselves even closer to him. With Pepe, Moutinho and Nani they are a team that can win the Euros.
"For the goal, Ronaldo started outside the box, and it was pure willingness, pure instinct to get on the end of Moutinho's cross. He can smell [the chance to score].
"Portugal are starting to believe. They beat Holland, and now they are in a semi-final. Ronaldo has the class and the leadership. He is the difference-maker."
Alan Hansen on Match of the Day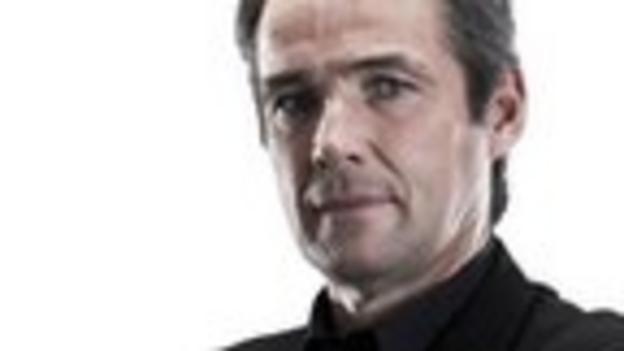 "I thought Joao Moutinho was the better player. I know Ronaldo will take the headlines - it was a great goal and there were some great bits of play - but Moutinho was fantastic against the Dutch and tonight he showed the hallmarks of a great player who can find time and space with consummate ease. In the last 20 minutes he just controlled the game.
"If you have Ronaldo on your side you always have a chance of winning the tournament. Portugal have surprised me because they have moved the ball better and I think they have been more aggressive in their play.
"Against the Germans in their first group game, Portugal were a waste of time for 60 minutes. They were too deep and got too many men behind the ball, but in the last 20 minutes they hammered Germany. They are good team."
What they said about Portugal:
"We played very well and then hit the post two times. We are confident and we are mature, so we are ready for the fight." - Portugal forward Ronaldo looks forward to the semi-final
"We really prepared hard to cope with him [Ronaldo], but he is a player of the greatest class. He was able to rise to the occasion." - Czech coach Michal Bilek
"All the players have tasks on the pitch, and Ronaldo played to our tactical system. He has the capacity to play in the penalty area, but also a little deeper." - Portugal coach Paulo Bento on Ronaldo's performance
Give your views on Portugal's and Ronaldo's performance on Twitter at #bbcfootball