Paulo Sergio says Hearts squad needs experience
Last updated on .From the section Football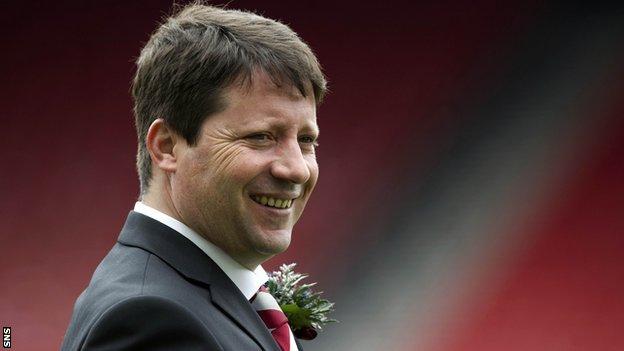 Former Hearts manager Paulo Sergio believes the club would be taking a risk by playing mainly youngsters in their team next season.
"I think they [the young players] have the capacity to do well but its very important to mix experienced players with them," Sergio told BBC Scotland.
"To put all the responsibility with the young ones is too risky."
Sergio won the Scottish Cup in his final match in charge of Hearts and hopes McGlynn can enjoy similar success if he takes at Tynecastle.
And the Portuguese coach expressed regret that he and his coaching staff were unable to finish what they started in Edinburgh.
"If he [McGlynn] is the man to replace me I wish him all the luck and I hope that he can be as happy as I was during my time at Hearts," said Sergio.
"I met McGlynn when I was in charge last season so I wish him all the best.
"I think the job wasn't finished. It was our pleasure to keep doing our job. We would like to do it, but we have to accept and understand what the board is doing for our club.
"For us, people have to understand too, that such a cut in our wage is too much for us.
"We want to do the job, but we have to look to our careers and to our lives too.
"I am very proud to have worked with Hearts and wish them all the best.
"I would love to keep working in the UK. I am waiting on a few things to see if there is a possibility and I'm sure if the chance comes then I will do my best to do a good job."